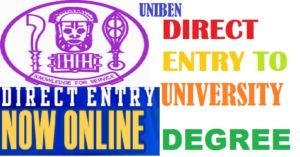 UNIBEN 2020 Direct Entry screening exercise has been announced by the management of University Of Benin.
Therefore, Direct entry screening exercise will be conducted in designated centers within the campus of the university at Ugbowo, Benin City.
It is note worthy that the screening exam will be conducted by UNIBEN Consult Nigeria Limited.
Likewise, the screening exercise shall be be conducted using the computer Based Test (CBT) mode.
IMPORTANT:- All candidates are to be seated latest one hour before the stipulated time for the screening exercise. A lot of students have missed their screening exercise as a result of going late. Avoid late coming.

Nevertheless, it is also important to note that only candidates who applied through JAMB for the 2020 Direct entry admission are eligible.
Likewise, they must have chosen the University of Benin as first choice.
You and I will go through this all other details under the following headings;
Grouping For All courses
How to apply
Deadline for application
Other Information
Please Stay tuned.
Now, lets take a look at the grouping for all the courses.
Social Sciences And management Sciences
Education – Social Sciences
Education – Management Sciences
Mathematics, Economics and Statistics
Physical Sciences And Engineering
Environmental Sciences
Education – physical sciences
Technical Education
Life sciences And Medicine
Dentistry
Basic Medical Sciences
Pharmacy
Life Sciences
Education Life Sciences
Agriculture
Arts and law
Without wasting much time, you and I will head quickly to how to apply for UNIBEN 2020 Direct Entry Screening Exercise.
IMPORTANT:- Before application, ensure you have a valid Email address.
However, if you don't have one, you can create one using this link in less than 2 minutes.
Read:- How To create a GMAIL Account in less than 2 minutes
After successfully doing that, then follow the steps below to apply.
Go to UNIBEN official site by clicking this link right here
Proceed to click on students portal
Then register for application at the top page of the display page to proceed
Then Enter you username as it was exactly written in JAMB registration slip. Likewise, input your JAMB registration number. Immediately after doing this, your ID and Password will be displayed on the browser.
Furthermore, click on login at the top right of the front page at this link here
Then of course enter you password and username to log in to your account.
To begin the application process, click on application record. Then, provide all required information and upload your passport photograph.
Next, upload a clear and a recent passport photograph with red background in JPEG format only. Note that for your application note to be rejected, follow the specified formats on the UNIBEN website and Portal.
NOTE:- The passport photograph uploaded will be the only valid ID for all admitted candidates throughout the duration of your course.
Likewise, failure to upload the specified passport photograph will lead to AUTOMATIC DISQUALIFICATION and FAILURE/FORFEITURE OF ADMISSION.
Click on "add online payment ticket" to pay for the application. This is located at the bottom of the page.
Then click on Remita on the top left corner of the page.
Follow the instructions to pay the application fee of N2000.
IMPORTANT:- The fee excludes other charges. Likewise, the admission screening exercise past  questions for N2000 which is optional.
This excludes services charges with a Valid ATM enabled card from any commercial Bank In Nigeria.
Click on the ink displayed and tagged "download Past Questions" to practice upon successful payment.
Ensure you preview and confirm your information before submitting your application.
WARNING:- No correction will be accepted after the closing date.
In case you don't understand, it means you can only make corrections when the application date hasn't closed.
Although, it is better to avoid any error before you submit to prevent stress.
Candidates are expected to go back online on the appointed date to print out their acknowledgement slip that contains the specific screening schedule.
When Are Candidates Expected To Go Back Online To Check Their Time And Venue?
Simple. Candidates are expected to go back online on the 19th of OCtober, 2019 to check their specific day, venue and time for the UNIBEN 2020 Direct Entry Screening Exercise.
WARNING:- GSM phones and calculators are not allowed .
Deadline
It is worthy of note that application website closes by 17th of October 2017.
This means that all applications must be concluded online not latter than 17th October, 2017.
Likewise, candidates who pay after the deadline will not be screened.
Thanks For Reading
O3schools Team
Read how to pass UNIBEN Post DE Examination very easily
Remember 900% of what you have read
How to study efficiently and effectively for any UNIBEN exam
All Documents Needed For University Of Benin Admission Clearance | Everything You Need To Know
UNIBEN hostel accomodation for students 2018/2019
Pictures Of UNIBEN Hostels | A look Into The University Of Benin Hostels
UNIBEN Clearance Procedure 2018/2019 | UNIBEN Online & Physical Clearance 2018
UNIBEN Postgraduate Admission List 2018/2019 Released | How To Check Admission List
UNIBEN JUPEB Admission List 2019/2020 Out | Clearance Begins Immediately
UNIBEN Diploma/Certificate Admission Form For Full Time & Part Time 2019/2020 Out
UNIBEN Part Time Admission Form 2019/2020 Out | Apply Now – Uniben.edu