Today, you and I will go through 7 deadly mistakes undergraduates make and how to avoid them.
Last time we talked about 6 top signs of wasted university education.
If you have not read it, you can do so now by clicking the link provided above.
We are all students and always in the field of learning.
What I am trying to say here is that when you make a mistake, there are only three things you should ever do.
Admit it
Learn from it
Don't repeat it
O3schools.com is in the business of sensitizing and changing the perceptions of several undergraduates.
We all make mistakes, have struggles and even regret things in our past.
However, what we never realize is that we are not our mistakes or our struggles but we are here right now with the power to shape our day and our future.
Basically, this is the reason for this article on Deadly Mistakes Undergraduates Make.
Before I move into the topic proper, I will share you a good story.
Just try to pick the points from it and be patient to read through to the end.
When I got admission into the university to study mechanical engineering, I was belated.

It was like a dream come true.

Although, that was just one among the several things that was bordering me as at that moment.

My school fees was up to N50,000 for the first year and like wise, my acceptance fee was almost the same amount.

Although I had parents who could comfortably pay but I really wanted to do it myself.

I wanted to start taking responsibility for myself.
However, there was no job I could do that can fetch me close to a N100,000 to service both my acceptance fee and school fees in less than 2months as I needed to pay and accept the provisional admission given me by the Joint Admissions and Matriculation Board Exam (JAMB).

Prior to my gaining admission into the university, I was employed in a secondary school to teach mathematics in the Junior and Senior classes.

Imagine (Jss1-3 and SS1-3), I was paid just N8,000 per month with a promise that it will be increased.

I taught for up to a year and the increase never came.

Most times after transport and buying a new black trouser, what is left from the salary is a full topic for another day.

What I am trying to say here is that I couldn't really save anything.

I didn't want to border my parents at all despite they were happy and ready to pay.

Therefore I had to let them pay eventually [School fees and Acceptance fees] for the first year.

But then , I promised them that that will be the last time they will have to make any other payment.

From the moment I took that major decision to make that statement, I knew immediately that My Life Just Got Started.

Since then, it has been from one thinking phase to another.

I am currently in 400L by God's grace and God has been faithful and I have not had to be a burden to my parents financially.
I remembered stating clearly in one of my articles here at o3schools.com that your life starts immediately you gain admission into the university.
Therefore, without wasting much time, lets head to the 7 deadly mistakes undergraduates make and how to avoid them.
The purpose of life is to live it, to taste experience to the utmost, to reach out eagerly and without fear for a newer and richer experience.
A lot of graduates live day in day out with the regret of not thinking about money while in school.
I spoke to a friend [400 level Petroleum Engineering Student] a few days ago on Whats App and she made the following statement.
I am tired of school jawe, I just want to finish school and then I will work in an oil company
In my mind, "I just said shey your father has an oil company ba?".
Well enough of the beating around the bush.
Let's head immediately to the deadly mistakes undergraduates make and how to avoid them.
Just like I illustrated with the what a friend said above about my Petroleum engineering friend who wants to work in an oil company, the bitter truth about the matter is that she might graduate as a petroleum engineer and after frustrations about not getting an oil work, will now be selling Red Oil in the market.
Oil company work is not child's play to get that easy nowadays.
The question that should continuously run through your mind is that "If by the time I graduate and I couldn't get my dream Job, What will I do Next".
Nevertheless, I am not saying you should be negative but all I am saying is that You should have other plans.
To avoid being stranded is the reason I am writing this article today.
Although, the good part is that it is never too late to start something now.
To sit down in the library all day reading books alone without thinking of another alternative to making it in life is a dead waste.
We are all in the gutter, some of us are looking at the stars.
Life doesn't require that you be the best, only that we try our best.
Do not allow people to judge your struggling by the chapter they walked in on.
Life begins the moment you begin to take responsibility for your actions.
Likewise, it is high time you assume responsibility for yourself.
Please note that your age is not a barrier.
Of course, you are not also too young to start making decisions.
Therefore be strong enough to stand alone, smart enough to know when you need help and brave enough to ask for it.
On my last post on 7 side jobs you can do to make money while in school, I stressed this.
If you have not read it, you can do that now before continuing.
I will patiently wait for you to do so.
Some students totally rely on their parents for support [school fees, allowance, clothing, materials, toiletries etc].
This immediately makes them feel comfortable and in the actual sense blocks their thinking.
Therefore, the only thing that comes to their minds is spending the money without ever thinking of making it their selves.
Of course, you can see the result of this attitude everywhere today.
This is the major reason you see a lot of jobless graduates everywhere today.
Don't be among these set of graduates, learn from them.
Remember it is always better to learn from other people's experience it will save you from falling into the same situation that will have a long life tribal mark on your life.
As an educated individual, you should have different plans.
If plan A doesn't work, you can fall back to plan B and even when Plan B doesn't work out, move to the next plan.
Always have a plan.
The capacity to learn is a gift.
The ability to learn is a skill while the willingness to learn is a choice.
It is very imperative to note that only the people who take learning, growth and skill development into their own hands will be tomorrow's leaders.
No matter how talented you are, your talent will fail you if you are not skilled.
Skill is achieved through practice.
You need to work hard and dedicate yourself to being better every single day.
Modern education is overrated in the world, especially in Nigeria.
Mark Zuckerberg had to leave school first to pursue his passion and look at Facebook today.
According to Vanguard Newspaper of 24th July, 2008,almost every home in Nigeria Has a graduate.

Likewise, according to prediction, by 2020, every home will have 5 graduates each who are jobless.
Therefore where does that leave us?
Graduating is never the problem, achieving something meaningful with your life latter is what matters most.
A lot of our graduates are not employable.
This is very appalling in the face of the present day realities.
There is a vast difference between being an academician and being educated.

Therefore, this means that you can have a BSC and still not be educated.

Academics places its focus in your certificates where as being educated drives you to be successful.
But then, you can use your academic ability to power your education.
Therefore, what's the solution to this problem?
You simply have to think outside the box.
there was an illustration I saw in John C Maxwell's book titled "The Leader".
See the illustration below and try to pick excerpts from it.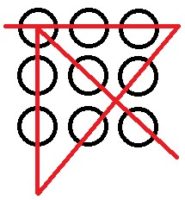 The only way to connect all the circles is by thinking outside the box.
Think of the services you can render to people that can yield income.
Start thinking now and when you have one but you can't power it, we have a charger right here.
We can help you with ideas that will bring your idea to fruition.
Like I said at the beginning of the deadly mistakes undergraduates make, I knew my life started immediately I got admitted to a school.
I began to think for myself.
One must work with the time and not against it.
The good thing about time is that it is free but priceless. You can't own it but you can use it.
Moreover, you can't keep it but you can spend it.
Finally and most importantly, once you've lost it, you can never get it back.
There are a lot of people who spend their time carelessly and by the time they realize it, they had wasted a reasonable amount of years doing nothing.
Whether you agree or not, the people making the real cash today are those not using their certificates.
It is more advantageous to start making money now.
START THINKING.
There are so many people who really want to make or start making money.
But the problem is that they have nothing to offer.
Money does not fall from the sky.
You must, therefore, have something that people will pay for.
The good part is that it is never too late to start now.
If you don't have one now, start thinking of what you can do to start making money now.
While thinking about this, make sure it is something that adds value to people's life or makes life easy for them.
The better you are able to think, the bigger the cash you will make.
Readers they say are leaders.
Likewise, it is often said that if you want to hide anything from a black man, hide it in a book.
The Worst deadly mistake undergraduates make is not set up time for self-development.
If you wish to achieve worthwhile things in your personal and career life, you must become a worthwhile person in your own self-development.
Everyone has free time, therefore use it for self-development.
How do you achieve this?. Simple.
Spend your money buying self-development books as well as spending your precious time reading them.
In addendum to this, are the list of things that will speed up your personal growth, therefore, apply them.
Don't follow the crowd, follow your own way and do what you love.
Don't only learn from success stories, learn from failure stories too.
Act like you are confident and can handle everything. Fake it until you make it.
Be a better listener and meet new people
Choose your vision and dream. Success will start pursuing you.
To learn something new, teach others how to do it.
Love yourself and take care of your health
Be curious and ask questions at all times.
Remember that the moment you accept total responsibility for everything in your life is the moment you claim the power to change anything in your life.
Therefore, be yourself because everyone else is taken.
That's the much I can take on the topic 7 deadly mistakes undergraduates make and how to avoid them.
What's your take on this? Please let us know in the comment box.
Thanks for reading.
O3schools Team
Please remember that SHARING is CARING.