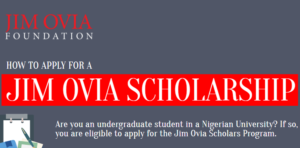 This is to inform the general public that Jim OVia Scholarship 2023/2024 is ongoing.
Jim Ovia Scholarship was formally know as MUSTE. I have a course mate who was an awardee of this scholarship back in 2014. Jim Ovia Scholarship aims to
Support students through tuition and maintenance allowance
Create financial aid to students who are excellent
In light of this, those eligible for the scholarship are supported for their graduate and undergraduate study duration. Furthermore, through our various programmes, the Jim Ovia Foundation aims to equip the future of our nation by increasing the knowledge base and skills of our youths with education and Information Communication Technology (ICT).
To date, the Jim Ovia Foundation has supported over 1,500 college students and entrepreneurs with over 100 million Naira in educational and entrepreneurial grants through two nationally recognized programs; the Jim Ovia Scholarship and Jim Ovia ICT Entrepreneurs Program.
Our beneficiaries excel academically in their service to their communities. In fact, most Jim Ovia Foundation beneficiaries have overcome tremendous challenges to pursue their dreams to excel.
Secondary school graduates, University students and aspiring ICT Entrepreneurs who meet the eligibility requirements may apply for support to the various applicable Jim Ovia Foundation programmes.
Eligibility
To be eligible for the Jim Ovia Scholarship, applicants must;
Leadership qualities, personal intellectual abilities and be of help to the society at large
Be undergraduates or graduates in any Nigerian University
Be Nigerian citizens
How To Apply For JimOvia Scholarship
To apply, follow the instructions below keenly;
IMPORTANT  NOTICE
Jim Ovia Scholarship is offered manually
Also, Scholarship application deadline is December

Finally, with the zest to build and improve upon the future of Nigeria, Jim Ovia Scholarship foundation was formed. Furthermore, we achieve this through the avenue of Education and Information Technology (ICT). Moreover, this is a long term goal and it is to bridge the knowledge gap to enable youths compete in the global economy. Finally, it is also to incorporate ICT into the Nigerian educational policy as a fourth science to ensure progressive and continuous learning.
I wish you good luck as you apply for the Jim Ovia Scholarship.
Also Read on the following available scholarships