Updated List of Courses Offered In LASU | Faculties & Admission Requirements
Updated List of Courses Offered In LASU | Faculties & Admission Requirements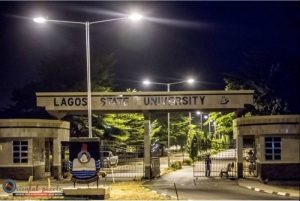 Today, you and I will quickly run through the topic "Updated List of Courses Offered In LASU | Faculties & Admission Requirements".
This has become very necessary because of students planning to study in several federal universities in Nigeria especially in LASU
To ease your curiosity, we have compiled the complete list of Federal and State Universities in Nigeria.
Recommended:- Complete List Of Federal Universities In Nigeria
Also Read:- Complete List Of All State Universities In Nigeria.
Therefore, o3schools is here to make life easy for every Nigerian Student and that's why we have also done a very complete and accurate job on JAMB subject combinations.
Highly recommended:- JAMB subject Combination For All Courses For LASU Aspirants
However, if you are among those that have been searching for [lagos state university jamb cut off mark, lasu admission requirement, does lasu offer nursing, does lasu offer pharmacy, lasu brochure, lasu engineering courses, school fees in lasu, lasu faculty of science, Updated List of Courses Offered In LASU | Faculties & Admission Requirements], then you are obviously not alone.
Nonetheless, you shall get all the information you have been searching for right here on this blog.
Therefore, without wasting much of your time, lets head to the topic "Updated List of Courses Offered In LASU | Faculties & Admission Requirements" under the following headings.
About Lagos State University (LASU)
Admission Requirements To study In LASU
Faculties Present In LASU
Updated List of Courses Offered In LASU
Therefore, without further ado, lets head there right away.
About Lagos State University (LASU)
Popularly known and referred to as LASU is Lagos State University with the motto "Per la Verita' e di Servizio meaning "For Truth and Service"
The university which has it's current vice chancellor as Olanrewaju Fagbhun has over 35,000 students.
LASU's official website can be accessed by clicking here.
Desmond Elliot and  Wizkid are alumni's of the university.
Admission Requirements To Study at Lagos State University
The following are the admission requirements to study in LASU
Therefore, the candidate must;
first, choose LASU as the first choice of institution before any other consideration
be at least 16 years of age at the time of application of the scholarship
have at least five (5) credit passes in SSCE or its equivalent in not more than two (2) sittings.
score an acceptable mark in the Unified Tertiary Matriculation Board Exam (UTME)
have an acceptable/reasonable score in the post UTME screening exam conducted by the school
Faculties Present In LASU
Furthermore, the university has 9 faculties namely the faculties of;
Education
Basic Medical Sciences
Clinical Sciences
Engineering
Science
Law
Busines Administration
Social Sciences
Arts
Updated List of Courses Offered In LASU
Read:- Complete List Of Courses Offered In All Nigerian Universities
Have you been searching for a particular course to study in LASU but you didn't know how to go about it because you don't know the list of courses offered?.
Well worry no more, because below is a complete, NUC accredited, official and updated list of courses offered in LASU.
In no particular order, they include;
Educational Management
Educational Foundation
Zoology
Yoruba and Communication Arts
Education, Language, and French
Education and Yoruba
Transport Management Technology
Technology and Vocational Education
Education and Political Science
Education and Physics
Technological Management
Sociology
Education and Mathematics
Education and Islamic Studies
Public Administration
Psychology
Education and Geography
Education and French
Portuguese/English
Political Science
Education and English language
Education and Economics
Physiology
Physics
Education and Computer Science
Education and Christian Religious Studies
Physical and Health Education
Philosophy
Education and Chemistry
education and Biology
Music
Microbiology
Education and Arabic
Education and Accountancy
Medicine and Surgery
Mechanical engineering
Mathematics
Mass Communication
Marketing
Islamic Studies
Insurance
Industrial Relations and Personnel Management
History and International Studies
Health education
Geography
French
Fisheries
English language
Electronics and Computer Engineering
Arabic Studies
Banking and Finance
Economics
Drama/Dramatic/Performing Arts
Biochemistry
Botany
Dentistry and Dental Surgery
Curriculum Studies
Business Administration'
Business Education
Computer Science
Chemistry
 Chemical and Polymer Engineering
Conclusion
Above is the complete list of courses offered in LASU.
However, this list will be updated immediately new courses are added by the authorities.
That's the much I can take on the topic "Updated List of Courses Offered In LASU | Faculties & Admission Requirements".
Thanks For Reading
O3schools Team
Finally, remember that SHARING is CARING.
See Other Articles That Might Also Interest You