Manage Exam Stress Effectively With This Highly Efficient Tricks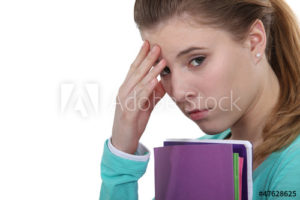 Managing exam stress effectively is a step in the right direction to boost confidence and self-belief.
It is a known fact that during exam periods, students tend to give their all towards the success of their exams.
It is the time when they think less of their selves and more on their STUDIES and AIM/TARGET. 
As such, stress level increases and in fact, grows beyond control.
Often times, students break down during this period. Although You and I know it is not over until it is over.
Even in that broken state, they eagerly continue to push for success.
Stressing yourself too much may cause a lot of unexpected illness and challenges which may deter your sound preparation.
Today, you and I will walk through this "manage Exam Stress Effectively and Efficiently Tricks". Stay Tuned in.
How To Manage Exam Stress Effectively And Efficiently
Understand Who You Are
If you follow o3schools very well, you will discover I always say " Nobody understands you better than yourself".
Understanding yourself can go along way to manage exam stress effectively.
Furthermore, if you want to achieve success, it has to start building up from the inside.
Since you understand yourself, then, of course, you will know your strong points and your weak points also.
Improve on your strong points and work seriously on your weak points.
This may go a long way in understanding when you can perform optimally mentally.
Understanding yourself alone can make you ease a lot of  Exam tension and help you manage exam stress effectively.
Take Breaks In between Study Sessions
In one of my finest posts on "how to study effectively and efficiently", this was one of the major points cited.
It will be a sin to go over it again. Just look up the link above.
Sleep!!! Sleep !!!
The importance of sleep in the place of study cannot be over-emphasized.
Although, everything we do as students, we have to be moderate at it.
If you attended a good primary school like mine "Glory land Primary School" Igarra, you will be made to understand that sleep is the best form of rest.
If you have planned your time table, then follow it strictly.
Sleep when you have to sleep and be active when your time table says you should be active.
Then you will discover in no time that you have been able to manage exam stress effectively.
Plan Your Study
If you are failing to plan, it, therefore, means you are eagerly and consciously planning to fail.
Likewise, proper preparation prevents poor performance.
Have a time table that you follow as I have stressed above.
One other major thing that kills time is procrastination.
In fact it is described as the thief of time and as such you might not want to play with it.
If you plan your study well and you are diligent enough to follow it to the letter, you will discover in no time that you have been able to manage exam stress effectively.
Believe In Yourself
There is nothing is important as self belief when trying to manage exam stress effectively. The reason why students become stressed is not far fetched. These may be because of
Lack of preparation
Lack of Sleep
Bad habits that makes you lose consciousness.
Therefore, whenever exam draws near, they tend to do much with so little time and this brings bad results.
Other points you might want to consider include
Eat Healthy food:- Avoid Junks as much as possible and eat lightly.
Always remember you are working with a plan
Forget your past failures and believe in what you can achieve
Never forget the place of God in all of these
If you follow these points to the letter, it, therefore, means you have learned how to manage exam stress effectively.
See other interesting academic contents below
Thanks for staying with me.
O3schools Team