Updated List Of Courses Offered In UNN | Faculties & Admission Requirements

Updated List Of Courses Offered In UNN|Faculties & Admission Requirements
Today, you and I will quickly take a look at the topic "Updated List Of Courses Offered In UNN|Faculties & Admission Requirements".
This has become very necessary of students planning to study in several federal universities especially UNN.
However, to ease the stress, we have also written a complete list of federal universities in Nigeria in the link below.
Recommended:- Complete List of federal Universities In Nigeria
Therefore, o3schools is here to make life easy for every Nigerian student and that's why we have also done a very complete and accurate job on JAMB subject combination.
Highly recommended:- JAMB Subject Combinations For All Courses
However, if you have been searching for [unn educational courses, unn courses and their cut off marks, list of engineering courses in UNN, courses in UNN, unn medicine, and surgery department, list of courses offered in unn, courses in UNN,Updated List Of Courses Offered In UNN|Faculties & Admission Requirements], then you are alone.
Therefore, if you are not too busy, lets head to the topic of discussion on "Updated List Of Courses Offered In UNN|Faculties & Admission Requirements" under the folowing headlines;
About University Of Nigeria (UNN)
Admission Requirements to study in UNN
Faculties present in UNN
Updated List Of Courses Offered In UNN
Without further ado, lets head there.
About University of Nigeria (UNN)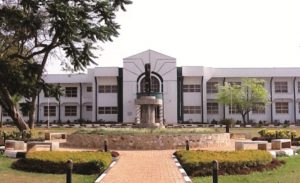 Read:- 7 deadly mistakes  UNN undergraduate make and why you should not dare them.
Popularly known and refferedto as UNN, the University of Nigeria was founded in the year 1955.
The University of Nigeria with the motto "To Restore The Dignity of Man" has its current vice chancellor as Professor Benjamin Ozumba.
The university website is UNN.
UNN has four (4) campuses with the main campus located in Nsukka, Nigeria.
Also, the University offers 82 undergraduate programs as well as 211 postgraduate programs.
Admission Requirements To Study In UNN
Read:- 6 top signs of a wasted university Education
To study in UNN, you must meet some certain requirements.
The candidate must;
obtain five (5) credit passes in SSCE or its equivalent in not more than two sittings.
Obtain five (5) credit passes in not more than two sittings including English language and one science subject.
have a considerable score in the Unified Tertiary Matriculation Exam at least 200
meet both the school, department and faculty requirements for admission.
Faculties Present In UNN
Read:- How To Remember 900% of What You Have Read Easily.
UNN has over 14 faculties as well as over 100 academic departments.
The following are the faculties present in the University of Nigeria(UNN).
In no particular order, they include the faculty of;
Agriculture
Arts
Biological Sciences
Business Administration
Dentistry
Education
Engineering
Environmental Studies
Health Science and Technology
Law
Medical Sciences
Pharmaceutical Sciences
Physical Sciences
Social Sciences
Veterinary Medicine
Updated List Of Courses Offered In UNN
Read:- Complete List Of All Courses offered In Nigerian Universities
Have been looking for a particular course to study in UNN.
The following are the list of courses offered at the University of Nigeria (Nsukka).
In no particular order, they include;
Veterinary Medicine
Social Work
Sociology and Anthropology
Public Administration and Local Government
Religion
Philosophy
Psychology
Political Science
Geography
Combined Social Science
Economics
Computer Science
Mathematics
Statistics
Physics and Astronomy
Geology
Pure and Industrial Chemistry
Combined Physical Sciences
Pharmacy
Medical Sciences
Education and Social Studies
Education and Political Science
Law
Education and Geography
Education and Economics
Nursing Science
Education and Physics
Social Science Education
Integrated Science
Education and mathematics
Education and Chemistry
Medical Radiography
Education and Biology
Education and Fine and Applied Arts
Science Education
Education and Igbo Linguistics
Medical rehabilitation
Medical Laboratory Science
Education and Music
Education and French
Estate Management
Education and Religion
Education and History
Geoinformatics and Surveying
Education and History
Art Education
Guidance and Counselling
Industrial Technical Education
Urban and Regional Planning
Architecture
Metallurgical Engineering
Mechanical Engineering
Electronic Engineering
Electrical Engineering
Civil Engineering
Agricultural and Bio-Resources Engineering
Home Economics Education
Computer Education
Business Education
Agricultural Education
Vocational Teacher Education
Library and Information Science
Health and Physical Education
Adult Education
Marketing
Business Management
Banking and Finance
Accountancy
Zoology
Microbiology
Botany
Biochemistry
Combined Biological Science
Music
Mass Communication
Fine and Applied Arts
Linguistics, Igbo, and other Nigerian Languages
Foreign Languages and Literary Studies
History and International Studies
English and Literary Studies
Theatre and film studies
Combined Arts
Archeology and Tourism
Food science and Technology
Agricultural Economics
Agricultural Extension
Nutrition and Dietetics
Home Science
Soil Science
 Animal Science
Above is the complete and updated list of courses offered at the University of Nigeria.
However, note that this list will be updated from time to time whenever a new course is added.
That's the much I can take on the topic "Updated List Of Courses Offered In UNN|Faculties & Admission Requirements".
Thanks For Reading
O3schools Team.
Finally, Remember That SHARING is CARING.
See Other Articles That Might Interest You