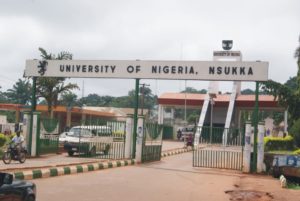 Today, you and I will quickly take a look at the topic "UNN Post UTME Form 2020/2021 Is Out Online, unn.edu.ng | UNN Latest News".
This has become absolutely necessary as a lot of UNN aspirants have been asking us questions in our whatsapp and telegram group pertaining to the subject matter.
However, if you have been wondering about [unn post utme screening form 2020/2021, unn post utme 2020/2021, unn post utme past questions, unn post utme cut off mark, unn post utme portal, unn post utme date 2020, unn latest news on admission, unn post utmesyllabus, UNN Post UTME Form 2020/2021 Is Out Online, Unn.edu.ng | UNN Latest News],then you can see that you are not alone.
Nonetheless, you shall get all the information you have been searching for right here on this blog.
Now, we shall take them one after the other.
UNN Post UTME Form UNN Post UTME Form 2020/2021 Is Out Online, unn.edu.ng | UNN Latest News Latest News
UNN Post-UTME form, cut-off mark, eligibility, screening dates, application fee, registration deadline, and details for the 2020/2021 Academic Session have been announced. The cut-off mark is 180.  The application fee is N2000. The deadline is August 28th, 2020.
The University of Nigeria hereby invites candidates who made UNN their first-choice institution in the 2020 Unified Tertiary Matriculation Examination (UTME) and scored 180 and above for screening exercise.
UNN SCHOOL FEES
UNN CUT OFF MARKS
DEPARTMENT
CUTOFF
FACULTY OF AGRICULTURE
AGRIC ECONOMICS
227
AGRIC EXTENSION
201
ANIMAL SCIENCE
202
CROP SCIENCE
206
SOIL SCIENCE
205
FST
227
HOME SCIENCE
200
NUTRITION AND DIETETICS
247
FACULTY OF ARTS
ARCHAEOLOGY & TOURISM
246
ENGLISH AND LITERARY STUDIES
271
FINE AND APPLIED ARTS
260
FOREIGN LANGUAGES
254
HISTORY AND INTERNATIONAL STUDIES
259
LINGUISTICS AND NIGERIAN LANGUAGES
245
MASS COMMUNICATION
268
MUSIC
255
THEATRE AND FILM STUDIES
254
COMBINED ARTS
201
FACULTY OF BIOLOGICAL SCIENCES
BIOCHEMISTRY
248
BOTANY
200
COMBINED BIOLOGICAL SCIENCES
214
MICROBIOLOGY
243
ZOOLOGY
207
FACULTY OF BUSINESS ADMINISTRATION
ACCOUNTANCY
257
BANKING & FINANCE
229
MARKETING
207
BUSINESS MANAGEMENT
233
FACULTY OF DENTISTRY
DENSTISTRY
270
FACULTY OF EDUCATION
ADULT EDUCATION
201
EDUCATION ART
251
EDUCATION CHEMISTRY
203
EDUCATION SOCIAL SCIENCES
245
AGRIC EDUCATION
205
BUSINESS EDUCATION
220
GUIDANCE & COUNSELLING
263
HEALTH EDUCATION
206
HOME ECONOMICS EDUCATION
229
INDUSTRIAL TECHNICAL EDUCATION
236
LIBRARY AND INFORMATION SCIENCE
246
SCIENCE EDUCATION
200
FACULTY OF ENGINEERING
AGRIC & BIUORESOURCES ENGINEERING
204
CIVIL ENGINEERING
248
ELECTRICAL ENGINEERING
242
ELECTRONICS
232
MECHANIC ENGINEERING
242
FACULTY OF ENVIRONMENTAL STUDIES
ARCHITECTURE
226
ESTATE MANAGEMENT
201
GEOINFORMATICS & SURVEY
201
URBAN AND REGIONAL PLANNING
210
FACULTY OF HEALTH SCIENCE & TECHNOLOGY
RADIOGRAPHY
266
MEDICAL REHABILITATION
258
NURSING
268
FACULTY OF LAW
LAW
297
FACULTY OF MEDICAL SCIENCES
MEDICINE
295
FACULTY OF PHARMACEUTICAL SCIENCES
PHARMACY
284
FACULTY OF PHYSICAL SCIENCES
COMPUTER SCIENCE
227
GEOLOGY
234
MATHEMATICS
200
PHYSICS AND ASTRONOMY
200
PURE AND INDUSTRIAL CHEMISTRY
206
STATISTICS
200
COMPUTER/STATISTICS
200
FACULTY OF SOCIAL SCIENCES
ECONOMICS
260
GEOGRAPHY
243
PHILOSOPHY
259
POLITICAL SCIENCE
275
PSYCHOLOGY
252
PUBLIC ADMINISTRATION
266
RELIGION
232
SOCIAL WORK
213
SOCIOLOGY/ANTHROPOLOGY
260
FACULTY OF VETERINARY MEDICINE
VETERINARY MEDICINE
227
Eligibility For UNN Post UTME Form 2020/2021
Candidates who chose UNN in the 2020 Universities Tertiary Matriculation Examination (UTME) and scored 200 or above for screening
University of Nigeria, Nsukka requires all candidates applying for admission into any of its courses to possess  five credit "O" level passes.
Online Registration
Eligible candidates are required to pay a processing fee of N2,000.00 (Two thousand Naira only) through Remita Platform at any Commercial bank.
The online registration commences on Wednesday, August 5, 2020 and ends on Friday, August 28, 2020. Candidates are advised to ensure they get the Official UNN Post-UTME Past Questions and Answers. This will help them prepare adequately for the screening exercise. CLICK HERE to get yours.
How To Apply
Process Flow for Post-UTME Registration
Log on to the University Website: unn.edu.ng
Click on UNN portal (Top right corner of the Website)
Click Prospective Students
Select Online Application Form for 2020/2021 Admission Screening Exercise
Enter JAMB Registration Number
Generate Invoice
Proceed to bank for Payment or pay using your ATM Card
Return to Portal
Re-enter JAMB Registration Number
Complete Date of Birth and all other blank fields
Enter O/Level Subjects and Grades (also provide your Centre and Examination Number. Note: Awaiting Results candidates should list their SSCE subjects)
Re-enter your grades correctly
Upload Certificates (Ensure that their sizes are not above 100KB)
Birth Certificate
Local Government Identification
Testimonial
First School Leaving Certificate
JAMB Result Slip
O/Level 1
O/Level 2 (For double sitting candidates) and click the NEXT button
Review Summary Page and check that all details entered are correct
Check the CONFIRMATION BOX below
Click SUBMIT
Print Acknowledgement Slip.
DIRECT ENTRY CANDIDATES FOR 2020/2021 WHO MADE UNN THEIR FIRST CHOICE INSTITUTION SHOULD ALSO REGISTER FOR THE SCREENING.
Kindly visit the UNN Website regularly for updates.
/Sgd./
Dr. Chris C. Igbokwe
REGISTRAR
Other Relevant Information Concerning University Of Nigeria, Nsukka Post UTME Form 2020/2021
See UNN Cut off Mark For 2020/2021 Here
How to pass UNN PostUTME Screening 2020/2021 | Easy Smart Method
That's the much I cant take on the topic "UNN Post UTME Form 2020/2021 Is Out Online, Unn.edu.ng | UNN Latest News".
Thanks For Reading
O3SCHOOLS TEAM.