Federal Poly Ede Post UTME Screening Form 2020/2021 Out | Apply Now
Today, you and I will quickly take a look at a very important topic titled "Federal Poly Ede Post UTME Screening Form 2020/2021 Out | Apply Now".
This has become necessary as a result of the very many messages and questions we have been receiving from our site visitors concerning when the Federal Poly Ede Post UTME Screening Form 2020/2021 will be Out as well as how to apply.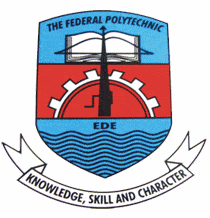 However, if you are among those that have been searching for [federal polytechnic ede post utme date, federal polytechnic ede screening form, federal polytechnic ede academic calendar, federal poly ede cut off mark, federal poly ede latest news, federal polytechnic ede first semester result, federal poly ede school fees, federal polytechnic ede acceptance fees 2020/2021], then you can see that you are not alone.
Nonetheless, you shall get all the information you have been searching for right here on this blog.
Federal Poly Ede Screening form
This is to inform all candidates who chose the Federal Polytechnic Ede as their first choice in the 220/2021 UTME and scored 140 and above that they are eligible to apply for Post UTME screening exercise.
The Sales of Ede Poly POST-UTME Screening Forms has been extended to 31st October 2020.
How to Obtain Form
Interested candidates are required to visit the institution's website https://www.federalpolyede.edu.ng/entranceForm/ to apply.
Application forms which attract N2,000.00 (Two thousand naira) only, and detailed information about the programmes entry requirement, mode of payment and registration are available online at www.federalpolyede.edu.ng.
Payment will be effected using any Remita payment methods ( Master card. Bank Payment. Online Payment. Internet Banking. ATM. remita app etc)
NOTE:
All your O'level Results should be filled online.
Current and active phone number is required
Current and active email is required.
Application closes: 31st August, 2020.
Our help lines are: 07086748618, 09077488005, 07061230735 and 08104895579
E-mail: [email protected] OR [email protected]
That's the much we can take on the topic "Federal Poly Ede Screening Form 2020/2021 Out | Apply Now".
RELATED FEDERAL POLY EDE



Federal Polytechnic Ede HND & ND Admission List 2020/2021 Out | Check Yours
Federal Poly Ede ND (PT, DPT) Remedial Admission Form 2020/2021 Out | Apply Now
Federal Polytechnic Ede Cut Off Marks For All Courses 2020/2021
Federal Polytechnic Ede School Fees 2020/2021 For All Programmes
Federal Polytechnic Ede HND Admission Form 2020/2021 Full Time Out | Apply Now
Thanks For Reading
O3SCHOOLS TEAM