Beat Admission Cut off Of Any University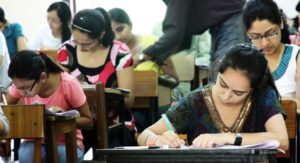 To beat admission cut off is very easy.
Moreover, before you will begin to talk about beating admission cut off, it means you have scored high in JAMB and it's now post UTME that's left.
Today, you and I are going to walk through the best techniques to use if you want to beat admission cut off.
Follow me closely so you will get the story straight away.
How To Beat Admission Cut Off Of Any University
Make Proper Research
Some people will refer to this as doing what is called "background check". You and I know that if you don't know how deep a river is, it is not advisable to dive into it.
This further means that you need to know a lot about an exam before stepping to writing it.
Some research you can make include;
The form of exam you will be subjected to (either CBT or PPT)
Number of questions you will be asked
Time allocated for the exam
Time you need to answer each question
How strict the invigilators are (are they smiling or not)
The admission cut off
How to navigate the school's environment better.
How easy it is to get to your exam venue
Where to stay when you come
Having these answers at your finger tips will help you while studying.
This can also help you to time yourself as you practice questions that you come across.
It also gives you and edge over several students who will refuse to visit o3school.com to prepare for their post UTME exams.
They only will get to know when the questions gets to their desk.
Take other factors such as where you are going to stay the night before the exam if you are coming from a distance into consideration.
People who ask questions don't get lost or fail.
Ask all possible questions you can ask so you will be informed not the other way round.
Lastly, sleep well the night before the exam, so that your brain will be sharp.
Past Questions
If you have been following me closely through this guide, I have always said stressed the importance of practicing with past questions.
lay your hands on relevant past questions for your institution.
Moreover, if you don't have a good understanding about the questions you are going to answer, then to beat admission cut off wont be easy except if you are lucky.
To Beat Admission Cut off, Have A Target
By now, you should already know your admission cut off and the number of students your departments accepts from your research.
This will make you understand how competitive the exam you are sitting for is and how to beat the admission cut off.
Set a target way above the cut off and believe you can achieve it
In fact, Aim so high such that when it falls below your expectation you will have even long be a success already.
Although don't forget to study to show thyself approved.
Read And Follow Instructions
Several students have failed exams because they not read and follow instructions. A lot of students have been sent out of the exam hall for very annoying reasons they they naturally should know about.
A girl came crying out of the hall in 2015 UNIBEN's Post UTME. You want to know why she she was sent out? For indecent dressing.
You don't want to be in that situation that will mean an extra year.
Some schools have dress code. Ensure you are kept abreast of all information you can gather before going to the hall.
Furthermore, before beginning to answer the questions, ensure you read the instructions very well.
Some exams are set to test your ability to follow simple instructions.
Most universities train for character and service. Therefore, you must read and follow instructions to the letter.
Finally, since post UTME questions are set to test your speed, ensure you don't waste too much time on one question.
Pray
If you are failing to pray, it therefore means you are praying to fail.
Trust me it works in that contest too. So acknowledge your maker at all times.
If you follow the points above to the letter, praying will be the tip on the iceberg and you will successfully beat the admission cut of any university.
Read ……Post UTME exam success trick
Also Read…....How To Manage exam stress effectively and efficiently
Thanks for reading
Drop all your questions in the comment box now. Don't forget to share.
Universities In Nigeria That Do Not Require JAMB Result | Schools That Don't Use JAMB
What Is JAMB Point System 2020/2021? | JAMB Point System Calculator
JAMB Change Of Course & Institution Form 2020/2021 Out | Jamb.org.ng
How To Print Original JAMB Result Slip | Original JAMB Result Portal [Jamb.org.ng]
JAMB Admission Letter Printing 2019/2020 & All Years (UTME/DE) | JAMB Admission Letter 2019
JAMB Admission Status Portal 2019/2020 and How To See Admission Status On JAMB's Website for 2019/2020
How To Check If You have Successfully Matriculated As A Student In Any School
Is It Possible To Score Above 300 In JAMB? | See List Of The Top 7 JAMB Scorers In 2019
How To Answer JAMB Use Of English Questions In JAMB 2019/2020
How To Check JAMB 2020/2021 Result Online
See the complete list of universities that accept 120 as cut off mark for 2019
JAMB Change Of Course & Institution Form 2019/2020
Universities In Nigeria That Do Not Require JAMB Result | Schools That Don't Use JAMB
JAMB Result Checker 2020/2021 For Free | How To Check JAMB 2019/2020 Results
How To Score 300 and above in JAMB 2019
JAMB 2019 subject combinations for all COurses
How to create your JAMB profile in 5minutes
How to create GMAIL account for JAMB profile.
JAMB 2020 Help | Summary Of "IN DEPENDENCE" Novel | Questions & Answers On Independence
Summary of The Last Days At Forcados High School by A.H. Mohammed
Summary Of Sweet Sixteen For JAMB Examination 2020/2021
Complete List Of Blacklisted JAMB CBT Centres & Their Offences 2020/2021
Easiest Ways On How To Purchase JAMB 2020 ePin For Registration