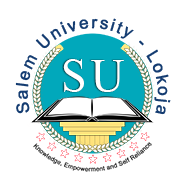 If you have been searching Salem University School Fees Schedule & Payment Procedure 2020/2021, salem university admission, salem university part time courses, salem university portal, salem university lokoja address, salem university, lokoja cut off mark, salem university lokoja courses offered, salem university abuja, salem university postgraduate courses, salem university admission, then you are in the right place.
Authority of the Salem University, Lokoja has released the amount to be paid as school fees by fresh and stale undergraduate/postgraduate students for the 2020/2021 academic session.
Courses
Salem University academic programmes are run in three Colleges and each of these Colleges have Departments under them. The Colleges, Departments and programmes are as follow:
College of Information and Communication Technology
Department of Computer Science
B.Sc Computer Science
B.Sc Information Technology
College of Natural and Applied Sciences
Department of Biological Sciences
B.Sc Microbiology
B.Sc Biology
B.Sc Biotechnology
Department of Chemical Sciences
B.Sc Biochemistry
B.Sc Chemistry
Department of Earth Sciences
B.Sc Physics
B.Sc Geology
B.Sc Energy Studies
Department of Mathematical Sciences
B.Sc Mathematics
B.Sc Statistics
College of Management and Social Sciences (CMSS)
A. MANAGEMENT SCIENCES
Department of Accounting and Finance
B.Sc Accounting
B.Sc Banking and Finance
B.Sc Actuarial Science
Department of Business Administration
B.Sc Business Administration
B.Sc Marketing & Advertising
B.Sc Office System Management
B.Sc Economics
B. SOCIAL SCIENCES
Department of Criminology and Penology
B.Sc Criminology and Penology
Department of Peace and Development Studies
B.Sc Peace and Development Studies
B.Sc Gender and Women Studies
Department of Regional Integration and Diplomacy
B.Sc Regional Integration and Diplomacy
Salem University School Fees Schedule.
College of Natural & Applied Sciences (CNAS) – ₦582,000.00
College of Communication and Information Technology (CICT) – ₦582,000.00
Management, Social Sciences & Humanities – ₦534,000.00
Law – ₦690,000.00
Part-Time Programme – ₦160,000.00
HND Conversion Programme (Direct Entry) – ₦240,000.00
Education – ₦250,000.00
MSC and MBA – ₦680,000.00
PGD – ₦585,000.00
You are required to pay tuition fees based on your programme. The amount of your tuition fees wild be set out in your notice/offer letter.
If you would like to pay your fees in installments them complete the form on this page: Tuition Fees Installments
Salem University School Fees Payment Procedure.
Navigate to the university's website (https://www.salemuniversity.edu.ng)
Go to About Us on the top menu
Scroll down to FEE AND PAYMENTS
Select your payment, e.g if you are paying for accommodation, choose your preferred accommodation type
Add to cart
If you are making more than one payment then click on the Return to payment page button and repeat steps 4 and 5.
If paying for tuition, click on tuition, choose your programme and college and add to cart
View cart
Proceed to checkout
Complete the Billing info form and click Continue
Click on Place order
Click on Pay Now
Choose your preferred payment option and follow the corresponding instructions.
Please contact us if you need any assistance while making your fees payment.
That's the much we can take on the topic "Salem University School Fees Schedule & Payment Procedure 2020/2021".
Thanks For Reading
O3SCHOOLS TEAM