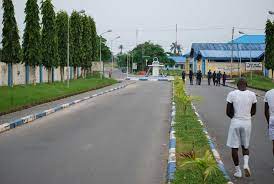 If you have been searching for Maritime Academy of Nigeria MAN Admission List 2020/2021 | ND Programmmes,maritime academy of nigeria admission list, maritime academy oron admission form 2020/2021, maritime academy of nigeria portal, maritime academy oron admission list, nigerian navy maritime academy, maritime academy admission list 2020 2021, maritime academy of nigeria oron latest admission news, requirements to gain admission into maritime academy of nigeria, then you are not alone.
The authorities of the Maritime Academy of Nigeria (MAN), Oron have released the list of candidates offered provisional admission into its National Diploma (ND) programmes in Nautical Science, Marine Engineering, Electrical/Electronic Engineering and Maritime Transport and Business Studies for the 2020/2021 academic session.
Maritime Academy of Nigeria (MAN) prospective ND students can now check their admission status online.
How Check Maritime Academy of Nigeria Admission List
Follow the link below to access your MAN admission status:
1. Acceptance of Admission: Interested candidates are advised to visit JAMB CAPS to accept the admission offer and printout the JAMB admission letter. Candidates who are yet to upload their O-level result on JAMB CAPS will not be able to get the admission offer from CAPS.
Candidates who have obtained the JAMB admission letters should log in to the Academy application portal at application.maritimeacademy.edu.ng with their JAMB registration numbers and Passwords to printout the Academy admission letters.
2. Semester Registration: Registration for the 2020/2021 session starts on the 22nd March 2021 and ends on the 7th of April 2021. Details of the registration fee can be found on the application portal.
3. Resumption Date: The Academy will be open to receive registered candidate on the 8th April 2021 and the deadline for resumption is 11th April 2021. Any candidate who fails to report before 1900 hours on 11th April 2021 will automatically forfeit the admission offer.
4. Covid 19 Test: Covid 19 Test will be conducted on Arrival. Therefore, cadets are expected to arrive at the Academy before 1900 hours each day. Note that any cadets who arrive after 1900 hours will not be granted access to the campus.
We wish everyone a hearty congratulations
That's the much we can take on the topic "Maritime Academy of Nigeria MAN Admission List 2020/2021 | ND Programmmes".
Thanks For Reading
O3SCHOOLS TEAM
Maritime Academy of Nigeria MAN Post UTME Form 2020/2021 Out | Apply
Maritime Academy Oron HND Admission Form 2020/2021