Gorilla Brains – Best Tutorial Center For JAMB, SSCE and Post UTME In Benin City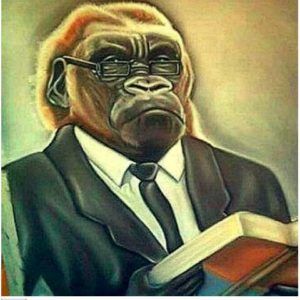 If you have ever wondered what tutorial center is best for JAMB, SSCE and Post UTME, then your guess is as good as mine.
Test House Tutorials AKA Gorilla Brains is the best tutorial center in Benin city for JAMB, SSCE and Post UTME.
Let me be clear on one thing that this article is not to confuse you but for you to have a personal conviction on why you should choose Gorilla brains for your child or ward in the forthcoming JAMB, SSCE and Post UTME examinations.
Gentlemen and ladies, Gorilla brains started a new session for JAMB and SSCE since August 1st, 2017.
Please note that G-brains now closer to you and your, your friends and wards at the new centers located in the following Areas
Airport Road, Opposite Glass House.
Aduwawa, behind the NNPC located opposite First Bank, behind Joe Motors.
Ice Road by BHS school gate and new Lagos Road
13a Akugbe Street opp 3rd cemetery behind Uyi technical
The major reasons why you should choose G-brains for your child or ward will be discussed under the following headlines.
Tutors
SSCE Practicals
Exclusive Knowledge Of Post UTME
Post-UTME unusual
Concrete Knowledge On how UNIBEN Post UTME Questions are set with proof
Contact Address
Therefore, without wasting much time, let's get to all these in detail.
Read:- 7 deadly Mistakes Undergraduates Make and why you should never dare them
Tutors
Presently, Gorilla Brains parades a total of 64 tutors across all subjects including English and Mathematics.
Great minds and great books to help navigate the circumference of knowledge are available.
G-brains has brought in 5 extra eggheads to support English Language tutelage.
Gorilla Brains has relocated some tutors in Physics, Chemistry, Government from Lagos and Port Harcourt to join the swelling ranks.
SSCE Practicals
This year, G-brains is improving tremendously in all its programs.
SSCE practicals are a top priority they now have a Practical Coordinator while weekly assessment text now also its Coordinator.
Also added is a Counselor. Feeling like a European now right? (lol).
Certain Books are hence a compulsory compendium.
Come for a cerebral encounter because this year, you must make it.
Read:- 6 Top signs Of  wasted University Education
Exclusive Knowledge Of Post UTME
The recent U-turn by the federal government decision to allow varsities conduct Post UTME is not surprising but should frighten admission seekers.
After several interactions with the ASUU chairman of UNIBEN, it was clear that the strike action is only but a piece of the ongoing negotiations by ASUU and it's all revenue inclined.
However, candidates should know that fairness on admission process has returned fairly but not without conditions.
At Test House Tutorials Aka Gorilla Brains, Benin, a wide range of consultations has started across universities.
It suffices to know that most universities have actually started rolling out their guns in synchronizing operational calenders with sessional regulations with NUC.
NOTE:- Any Post UTME from now will be tough and decisive.
At Gorilla Brains tutorials, they have reinvigorated what they are best known for By God's grace.
They were the only tutorial in Benin who built a functional scheme for post UTME.
They have conducted this program for 8 years before JAMB lectures began.
Conducting only Post UTME won G-brains many awards and accolades.
G-brains doors are currently opened to meet these challenges.
Hostel accommodations are available for outside state candidates.
Erudite brain sharpening tutors as you have never seen or heard are fully on the ground.
Like always, info and operations that expose universities' admission secrets have been activated.
Are you still doubting the capability of the Test House Tutorial AKA Gorilla Brains?
Then lets head to the next item.
Post UTME Unusual
Passing Post UTME is not exactly the same as passing the UTME.
The Tertiary institutions usually test students in a different way to certify their competence in a complete sense.
The secrets of this special competence test remain what Gorilla Brains has an edge over the other brands.
It is that special condiment that makes G-brains broth UNIQUE.
Others have tried to uncover this secret but of course, they have failed woefully.
Gorilla brain's overwhelming presence in UNIBEN, AAU, DELSU, and the likes is clear evidence of their high success rate at the Post UTME.
Therefore, "SAY NO" to gambling.
Don't leave your admission battle in the hands of rookies.
Let the experienced team win that battle for you.
At Gorilla Brains, they believe in "more work, less noise, and play".
Remember, admission is done once a year.
There may not be a second chance.
Goal-oriented post UTME lectures have begun on the 21st of August, 2017 across their 9 centers in Benin.
The centers will be clearly reiterated at the end of the article.
Gorilla Brains has always formed a good habit of unveiling live Post UTME questions.
This exercise started in 2007, after brainstorming.
Gorilla Brains tutorials in a desperate attempt to ensure that their candidates get priority in the competitive admission space developed POST UTME REVELATION HOUR.
Here, they brainstorm across subjects, topic by topic, lines bylines, exhuming questions that could constitute real questions that often repeat itself word for word.
How UNIBEN Post UTME Questions Are Set
30% of UNIBEN Post UTME questions are set by the teachers of the secondary school, owned by the university (UDSS).
The remaining 70% is sourced from relevant question banks.
The moment post UTME forms start selling, the university constitutes the UBA ( University Admission Board).
They then determine the direction of things.
A well-informed network will certainly know how to follow the signs of the end time.
This information guides your permutations for possible questions in the Revelation Hour Program.
I hope you are now convinced right?
Oh no, that's not all, See proof below
Read:- How To Study Effectively and Efficiently
Proof
In 2005, questions 11-17, 27-40 for physical sciences and engineering were all diction questions in the use of English.
UNIBEN repeated JAMB 1987 passage D for Arts and law for post-UTME 2005.
Most recently, JAMB 1987 passage E was repeated for 2014 post UTME for Arts and Law.
The same year, Lexis and structure were sourced from multiple-choice questions by OSHEMI.
More to come. Now let's take a look at all their centers
List Of All Gorilla Brains Centers Across Benin City
Ugbowo
New Benin
Ice Road
Ogida
Ekenhuan Road
Sapele Road
Aduwawa
Ikpoba Hill
Airport Road
Read:- How To Avoid Sleep When You Want To Study
Contact
Call Consultation Room on [08066375847, 08064083513].
Finally, Join Test House Tutorial AKA Gorilla Brains Today and wait to experience the deal day.
This is about the much I can take on Gorilla Brains For Now. However, if you want to know more, call any of the above numbers for information.
Courtesy
O3schools Team.
Also, Read on
How to remember 900% of what you have read easily
Universities In Nigeria That Do Not Require JAMB Result | Schools That Don't Use JAMB
What Is JAMB Point System | JAMB Point System Calculator
JAMB Change Of Course & Institution Form  Out | Jamb.org.ng
How To Print Original JAMB Result Slip | Original JAMB Result Portal [Jamb.org.ng]
JAMB Admission Letter Printing  & All Years (UTME/DE) | JAMB Admission Letter
JAMB Admission Status Portal  and How To See Admission Status On JAMB's Website
How To Check If You have Successfully Matriculated As A Student In Any School
Is It Possible To Score Above 300 In JAMB? | See List Of The Top 7 JAMB Scorers
How To Answer JAMB Use Of English Questions In JAMB
How To Check JAMB  Result Online
See the complete list of universities that accept 120 as cut off mark
JAMB Change Of Course & Institution Form
Universities In Nigeria That Do Not Require JAMB Result | Schools That Don't Use JAMB
JAMB Result Checker For Free | How To Check JAMB  Results
How To Score 300 and above in JAMB
JAMB  subject combinations for all COurses
How to create your JAMB profile in 5minutes
How to create GMAIL account for JAMB profile.
JAMB  Help | Summary Of "IN DEPENDENCE" Novel | Questions & Answers On Independence
Summary of The Last Days At Forcados High School by A.H. Mohammed
Summary Of Sweet Sixteen For JAMB Examination
Complete List Of Blacklisted JAMB CBT Centres & Their Offences