Maurid Polytechnic School Fees 2020/2021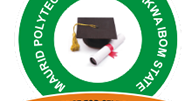 The management of the Maurid Polytechnic, Mbiaso, Akwa Ibom State, has released the amount to be paid as school fees by ND and HND students of the institution for the second semester, 2019/2020 academic session.
Maurid is one of the foremost private innovative institute first established in nasarawa State in 2010. The campus was later relocated to Mbuaso, Nsit Ibom in Akwa Ibom state in 2011. The structure of the institution is different from other similar institutions in Nigeria in that the supreme authority of the institution is the Board of Directors. The chief Executive officer is the rector who is assisted by the Registrar, bursar, liberian and the Dean of students Affairs.
Maurid Poly slashes school fees for 2nd semester of the 2019/2020 academic session by 20% as part of it's Covid-19 palliative to Parents/Guardians.
1. As part of the efforts of Maurid Polytechnic to cushion the effect of Covid -19 pandemic on it's students, parents and guardians, the school management has decided to give away 20% discount on tuition fees to all levels of students for the 2nd semester, 2019/2020 academic session only.
2. The 20% discount on tuition fees is available only to students who pay their fees within the registration period of one month of the resumption date
3. All ND 2 and HND 2 students will be given approvals to carry on with their projects after the discounted fees have been paid within the period stipulated.
4. The actual values of the fees are as follows: (a) ND returning students pay  #34,000 instead of #42500 within the period. (b) HND students pay #40000 instead of #50000 within the period.
5. All tuition fees return to normal after the one month grace period.
6. Please note that the discount is on 2nd semester (2019/2020 session) tuition fees only.
7. Please note that there will be no break after the 1st semester exams.
Signed:
Management
That's the much we can take on the topic "Maurid Polytechnic School Fees 2020/2021".
Thanks For Reading
O3SCHOOLS