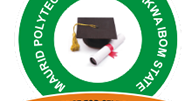 If you have been searching for Maurid Poly Admission Form 2020/2021 | ND, HND & Degree, maurid exam portal, maurid polytechnic courses, maurid admission letter, maurid polytechnic mbiaso nsit ibom lga, is maurid polytechnic accredited, maurid polytechnic presidential lodge, mauripoly, mouridpoly,then you are not alone.

Authorities of the Maurid Polytechnic, Mbiaso, Akwa Ibom State has announced the sales of admission forms into the various National Diploma, ND, Higher National Diploma, HND and Degree programmes for 2020/2021 academic session.
AVAILABLE ND & HND COURSES
SCHOOL OF ENGINEERING
Computer Hardware Engineering
Computer Software Engineering
Energy Health Technology/SLT
Telecommunications Technology/Electrical Electronics
SCHOOL OF ARTS
Paralegal Studied/Public Administration
Performing And Media Arts/Mass Communication
SCHOOL OF BUSINESS 
Banking Operations / Accounting
Business Management Technology
ELIGIBILITY [ND]
Students who have written Jamb and scored 150 and above are eligible to apply for admission in the Institute. Such a student must possess a minimum of five (5) credits passes in relevant subjects.
ADMISSION REQUIREMENTS 
Candidates must possess a minimum of five (5) credits passes in relevant subjects.
METHOD OF APPLICATION
Applicant is required to register for maurid eportal to complete registration for his/her choice of programme, and can check the portal from time to time for new updates.
Kindly Visit the school Maurid Institute of Management & Technology, Mbiaso  Nsit Ibom LGA, Akwa Ibom State, Nigeria or Call: (+234) 809 542 9584, 0814 409 9174
Or
Visit https://mauridportal.net/ for more information.
DEADLINE
Not Yet Specified.
Maurid Polytechnic School Fees Schedule.
Maurid Poly slashes school fees for 2nd semester of the 2019/2020 academic session by 20% as part of it's Covid-19 palliative to Parents/Guardians.
1. As part of the efforts of Maurid Polytechnic to cushion the effect of Covid -19 pandemic on it's students, parents and guardians, the school management has decided to give away 20% discount on tuition fees to all levels of students for the 2nd semester, 2019/2020 academic session only.
2. The 20% discount on tuition fees is available only to students who pay their fees within the registration period of one month of the resumption date
3. All ND 2 and HND 2 students will be given approvals to carry on with their projects after the discounted fees have been paid within the period stipulated.
4. The actual values of the fees are as follows: (a) ND returning students pay  #34,000 instead of #42500 within the period. (b) HND students pay #40000 instead of #50000 within the period.
5. All tuition fees return to normal after the one month grace period.
6. Please note that the discount is on 2nd semester (2019/2020 session) tuition fees only.
7. Please note that there will be no break after the 1st semester exams.
That's the much we can take on the topic "Maurid Poly Admission Form 2020/2021 | ND, HND & Degree".
Thanks For Reading
O3SCHOOLS TEAM