Today, you and I will quickly run through the topic "Updated List Of Courses Offered In UNIOSUN | Osun State University Requirements".
SCORE 280+ In JAMB 2021 Download and Install JAMB CBT APP NOW for practice. CLICK HERE
Message  O8132420817  on Whatsapp for more info on How to Activate After Installing
Your success is directly proportional to your smart work and Hard Work
This has become very necessary because of students planning to study in several federal universities in Nigeria especially UNIOSUN.
To ease your curiosity, we have compiled the complete list of Federal and State Universities in Nigeria.
Recommended:- Complete List Of Federal Universities In Nigeria
Also Read:- Complete List Of All State Universities In Nigeria.
Therefore, o3schools is here to make life easy for every Nigerian Student and that's why we have also done a very complete and accurate job on JAMB subject combinations.
Highly recommended:- JAMB subject Combination For All Courses For UNIOSUN Aspirants
However, if you are among those that has been searching for [uniosun cut off mark for nursing, Osun state university courses and cut off mark, Osun state university admission, art courses in Osun state university, Osun state university school fees, cut off mark for all courses in uniosun, Osun state university ikire campus, Osun state university cut off mark, Updated and official List Of Courses Offered In UNIOSUN | Osun State University], then you are obviously not alone.
Nonetheless, you shall get all the information you have been searching for right here on this blog.
Therefore, without wasting much of our time, lets head to the topic "Updated and official List Of Courses Offered In UNIOSUN | Osun State University"
Osun State University (UNIOSUN) was established by Osun State Government pursuant to the University Establishment Law passed by the State House of Assembly in December, 2006 and signed into law by His Excellency, Prince Olagunsoye Oyinlola. The National Universities Commission having reviewed the requisite documents, granted approval and formal recognition to Osun State University as the 80th university in Nigeria and 30th State University.
Osun State University is set up as a conventional, multi-campus university charged with the production of high quality, well–rounded, globally competitive and entrepreneurial graduates who are catalysts for rapid and sustainable socio-economic development of Osun State and Nigeria. Although the university is intended to be a conventional university, it shall optimise the application of Information and Communication Technologies (ICTs) in its teaching, learning and research activities.
The university shall be an equal opportunity institution where no person shall be required to satisfy requirements pertaining to race, (including ethnic grouping), sex, place of birth, family origin, religious or political persuasion as a condition of becoming or continuing as a student, the holder of a degree or other awards of the university, or of appointment or employment at the university. The university shall however reserve the right to impose any disability or restriction on any person where such a person wilfully refuses or fails on grounds of religious belief or similar grounds, to undertake duty generally and uniformly imposed on all persons or any group of them and which in the opinion of the university, is reasonably justified in the interest of the State or the nation.
Although the university shall in the tradition of the best universities in the world offer opportunity to suitably qualified candidates from all over the globe, it shall take cognisance of its catchment areas in line with established government policy to facilitate exploitation of the enormous human and material resources in the State for sustainable development.
In pursuit of its goals and objectives and the fulfilment of its vision and mission, the university shall have powers to:
Provide the requisite milieu conducive for the pursuit of degree and diploma programmes leading to the award of;
Bachelor degree;
Professional and Post-graduate diploma;
Master degree;
Doctor of Philosophy degree
Provide the pre-requisite enabling environment for post-doctorate research work for the general advancement of humankind;
Establish  such campuses, colleges, faculties, institutes, schools, extramural departments and other teaching and research units within the university  from time to time as may be deemed necessary subject to the approval of the National Universities Commission;
Institute professorships, readerships, lectureships and other posts and offices and to make appointments thereto;
Institute and award fellowships, scholarships, bursaries, medals, prizes and other titles, distinctions, awards and  other forms of assistance;
Provide for the discipline and welfare of  members of the university;
Hold examinations and grant degrees, diplomas, certificates and other distinctions to persons who have  pursued a course of study approved by the university and have satisfied such other requirements as the university  establish;
Grant honorary degrees, fellowships or academic titles;
Demand and receive from any student or any such person attending the university for  the purpose of  instruction  such fees as  the university may from time to time  determine based on prevailing circumstances and subject to approval by appropriate authorities;
Acquire, hold, grant, charge or otherwise deal with or dispose of movable and immovable property where ever situated;
Accept gifts, legacies and donations but without obligation to accept the same for a particular purpose unless it approves the terms and conditions attaching thereto;
Enter into contracts, establish trusts, act as trustees , solely or jointly with any person, and employ and act through agents;
Erect, provide, equip and maintain libraries, laboratories, lecture halls, halls of residence, refectories, sports grounds, playing fields and other buildings or things necessary or suitable  or convenient for any of the objects of the university;
Hold inaugural lectures in addition to other public lectures and to undertake printing, publishing and bookselling;
Subject to any limitations or conditions imposed by Statute, to invest any monies appertaining to the university by way of endowment, whether for general or special purposes, and such other monies as may not be immediately required for current expenditure, in any investments or securities or in the purchase or improvement of land, with power from time to time to vary any such investments  and to deposit any monies for the time being un-invested with any bank on deposit or current account;
Borrow, whether on interest or not and if need be, upon the security of any or all of the property movable or immovable of the university, such monies as the Council may from time to time in its discretion find it necessary or expedient to borrow or to guarantee any loan, advances or credit facilities;
Make gifts for any charitable purpose;
Arrange for the general welfare of children of members of staff;
Do anything which it is authorised  or required by the university law  or by statute so to do; and
Do all such acts or things, whether or not incidental to the foregoing powers, as may advance the objects of the university.
1.2    OSUN STATE UNIVERSITY PLANNING COMMITTEE
Professor Peter Okebukola,  Immediate-Past Executive Secretary, National Universities Commission, Abuja (Chairman)
Professor Oye Ibidapo-Obe,  Former Vice-Chancellor, University of Lagos
Professor Moses Oyeleke Fawole, Director of Academic Planning, Bowen University, Iwo
Professor Kolawole Adesina, DRPU, Faculty of Pharmacy, Obafemi Awolowo University, Ile-Ife
Professor Sola Akinrinade,  Dean, Faculty of Arts & Chairman, Committee of Deans,  Obafemi Awolowo University, Ile-Ife
Mrs. Bunmi Famoriyo, Honourable Commissioner for Education, Ministry of Education, Osogbo, Osun State
Alh. Tajudeen Oladipo, Honourable Commissioner for Finance and Economic Development, Min of Finance & Econ Development,  Osogbo, Osun State
Alh. Ajibola Lawal, Honourable Commissioner for Lands and Physical Planning, Min. of Lands & Physical Planning, Osogbo, ,Osun State
Barr. G.M. Adedeji, Attorney-General and Honourable Commissioner for Justice, Ministry of Justice, Osun State, Osogbo
Dr. Suleiman Babatunde Ramon-Yusuf, Deputy Director Quality Assurance, National Universities Commission, Abuja
Tairu A. Adeogun, Deputy Director, Academic Planning & Research,  National Universities Commission, Abuja
Dr. Samuel Gbadebo Odewumi, Senior Research Fellow(Special Projects), National Universities Commission, Abuja
Secretariat
Chief Julius Babawale Omiwale, Director, Higher Education
Johnson O. Oyedele, Deputy Director, Higher Education
Coopted
Arc Bola Balogun, Deputy Director, Physical Planning, National Universities Commission, Abuja
Dapo Adeniyi, Office of the Attorney-General and Honourable Commissioner for Justice, Ministry of Justice, Osun State, Osogbo
1.3   CAMPUSES AND PHASING OF ACADEMIC PROGRAMME
The University shall run conventional academic programmes with slants that are relevant to socio-economic development of Osun State and Nigeria and that will lead to the production of globally competitive graduates. Its main campus is located at Osogbo and branch campuses in each of the geopolitical zones of the State to ensure that quality university education is decentralised and taken as close to all parts of Osun State as possible. The university shall place high premium on the provision of entrepreneurial education with high ethical and moral standards for all its students.
In order to achieve its academic objectives, the University shall operate a collegiate system comprising the following Colleges: the College of Health Sciences; College of Science, Engineering and Technology; College of Humanities and Culture; College of Management and Social Sciences; College of Law; College of Agriculture and College of Education.  The Colleges shall take off simultaneously but in an orderly fashion.
In addition, the University shall establish the following academic units:
College for Life-Long Learning and Human Resource Development
The Postgraduate School
General Studies Unit
Centre for Pre-Degree Studies
Centre for the Modernization and Application of Nigeria's indigenous Languages
Centre for Entrepreneurial Studies
Centre for Alternative Energy Research and Rural Environmental Technologies
Centre for Alternative Medicine
UNIOSUN Business School
Centre for Public and Global Discourse
Centre for Management Studies
Centre for Space Science and Technology
Centre for Applied Organisation and Management Science
In order to achieve the desired hallmark of high quality and integrity of its academic provisions and research output, innovative strategies will be devised to ensure the attraction, recruitment and retention of the highest calibre of academic, non-academic and support staff.
Staff selection and recruitment will be based exclusively on merit through the instrumentality of scrupulous and unimpeachable personnel screening processes. All staff shall be well remunerated with packages that can better the average in the sub-sector. In addition, all deserving staff will be rewarded periodically for creativity, dedication, productivity and loyalty to the ideals of the university.
The University shall also ensure that staff will be provided with an enabling environment with state-of-the-art facilities and equipment to enable them perform optimally and realize their full potential and self-actualization.
Functional and relevant Staff development programmes shall be put in place through deliberate efforts at allocating at least 2.5% of the total recurrent expenditure to staff development especially in the formative years of the university, in addition to forging fruitful collaboration with funding agencies and development partners for the training of staff.
The MOTTO of Osun State University is "LIVING SPRING OF KNOWLEDGE AND CULTURE". This summarises the goal of the university to be an everlasting source (spring that is living) of knowledge generation and utilisation. Osun State is globally acclaimed for its propagation of Nigerian culture. The motto also captures this essence.
The LOGO is depicted by a fountain over an open book representing the springing forth of knowledge.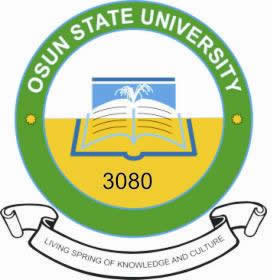 The COLOURS are: Gold and Blue (colours of Osun State), Green and White (Nigerian national colours) all to depict the service the university intends to render to Osun State in particular and Nigeria in general.
The official ACRONYM of Osun State University shall be UNIOSUN.
Their website can be accessed by clicking here.
The following are the admission requirements to study in UNIOSUN.
Therefore, the candidate must;
first, choose UNIOSUN as the first choice of institution before any other consideration
be at least 16 years of age at the time of application of the scholarship
have at least five (5) credit passes in SSCE or its equivalent in not more than two (2) sittings.
score at least 180 in the Unified Tertiary Matriculation Board Exam (UTME)
have an acceptable/reasonable score in the post UTME screening exam conducted by the school
For admission into any of the first degree programmes of the University, a candidate shall be required to meet the Faculty and Departmental admission requirements as stipulated in the individual Faculty . In addition to the Faculty requirements, the candidate should possess the following minimum qualifications:
(i) A candidate for admission into the 100 level must have the Senior Secondary School Certificate (SSCE) or its equivalents with credit level passes in five (5) subjects at not more than two sittings. The candidate must also earn an acceptable score in the Joint Admissions and Matriculation Board's University Matriculation Examination.
(ii) Candidates seeking admission by direct entry into the 200 level, must have two (2) Advanced Level passes or approved equivalents in addition to credit level passes in three other subjects at the SSCE or its equivalents.
In all admissions into the University, credit level pass in English Language is required. In addition, credit level pass in Mathematics is required for all science- based, Social Sciences and Management Science courses.
UNIVERSITY APTITUDE TEST
All candidates seeking admission into the University irrespective of their UTME scores shall be required to pass the University aptitude test before being admitted.
Click here to download Full details on Admission Requrements
For more information or enquiries, contact the Admission Office via any of the following:
Email: [email protected]
Tel: 035206440, 07065372579
Or visit the Admission Office at
Room 228, Admission Office,
Administrative building,
Osun State University Main Campus,
Osogbo, Osun State.
Visiting Hours: 10:00a.m -12:00p.m or 2:00p.m – 4:00p.m (Mondays – Fridays)
The university has faculties namely the faculties of;
College Of Agriculture
College Of Education
College Of Health Sciences
College of Humanities and culture
College Of Law
College Of Management and Social Sciences
College of Sciences Engineering and Technology
Updated and official List Of Courses Offered In UNIOSUN
Read:- Complete List Of Courses Offered In All Nigerian Universities
Have you been searching for a particular course to study in UNIOSUN but you are not informed about the list of courses offered in the University?
Do you intend to write JAMB this year and you don't you the course to fill in?
The, worry no more.
Below is a complete, NUC accredited, official and Updated List of courses offered in UNIOSUN.
Osun State University, a multi-campus institution operating collegiate system, has seven Colleges in six campuses located in the six geopolitical zones of Osun State. Below is the list of Colleges, their respective Departments and available Programmes in Osun State University. Click on the desired College to reveal the Departments, then on a Department to reveal the Programmes.
In no particular order, they include;
Above is the most recent list of courses offered in UNIOSUN.
However, this list will be updated from time to time depending on when the authorities of the university add more faculties and courses.
That's the much I can take on the topic "Updated List Of Courses Offered In UNIOSUN  | OSun State University Requirements".
Thanks For Reading
Finally, remember that SHARING is CARING.
UNIOSUN Post UTME Form 2020/2021 Out, Uniosun.edu.ng | UNIOSUN Latest News
UNIOSUN Inter-University Transfer Form Out | Application Has Begun
UNIOSUN Postgraduate Courses  | UNIOSUN PG Fees Breakdown
UNIOSUN Post UTME Result | How To Check UNIOSUN Post UTME Result Easily
UNIOSUN School Fees  For New & Returning Students
UNIOSUN Cut Off Marks  |JAMB & Departmental Cut Off Marks
UNIOSUN Admission List | UNIOSUN 1st Batch, 2nd Batch & Direct Entry Admission List Out
Osun State University UNIOSUN Change of Course Form
Osun State University UNIOSUN Academic Calendar
UNIOSUN Pre-Degree Admission Form  Is Out | Courses Offered In UNIOSUN Pre-degree
Updated List Of Courses Offered In UNIOSUN  | OSun State University Requirements
UNIOSUN Supplementary Post UTME Form Is Out | Application In Progress
UNIOSUN Acceptance Fees  | UNIOSUN Acceptance Fees Portal & Guidelines
Osun State University UNIOSUN Postgraduate Admission Form
UNIOSUN Post UTME Past Questions, Answers & PDf's |  UNIOSUN Post UTME Exam Focus