Igbinedion University Okada IUO Postgraduate Admission Form 2020/2021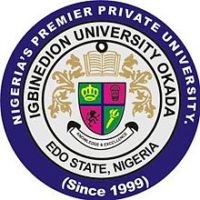 If you have been searching for Igbinedion University Okada IUO Postgraduate Admission Form 2020/2021, igbinedion university postgraduate courses, igbinedion university admission, igbinedion university okada address, igbinedion university portal, pictures of igbinedion university okada, about iuo, igbinedion university admission requirements, igbinedion university courses, then you are in the right place.
Applications are invited from suitably qualified candidates for admission into the Igbinedion University Okada (IUO) postgraduate programmes for the 2020/2021 academic session.
Igbinedion University postgraduate registration closing date earlier stipulated for 30th October 2020 has been extended until 31st December 2020.
Admission Requirements:
POST GRADUATE DIPLOMA (PGD)

Candidates must have 5 credit Passes including English Language and Mathematics at O Level.
Candidates should have not less than 3rd Class Honour Bachelor's Degree from an approved Universities in the course of study or related discipline
Candidates with HND and or Professional qualifications cognate to their study or related discipline from a recognized Institution with not less than Upper Credit are also eligible.

MSc Programme

Candidates must satisfy the matriculation requirements of the University including English Language and Mathematics.
Candidates with Bachelor's degree in their course of study from an approved University whose programme have been accredited by the NUC
Candidates with a minimum of Second Class Lower Degree and a CGPA of 3.00 on a five point scale are eligible.
Candidates with a Postgraduate Diploma (PGD) Degree from their course of study or a cognate discipline awarded by Igbinedion University, Okada or other recognized Institution with not less than an upper Credit.

PhD Programme

University minimum requirements for a BSc degree in the field of Study
BSc degree from an approval University whose programme is accredited by the NUC
A minimum of a second class lower degree in the field of study
MSc degree in the field of study with a CGPA of at least 4.0 in a 5 point scale
Submission of a brief satisfactory statement of intended are of research.
How to Apply for Igbinedion University Postgraduate Admission Form.
For applicants that are not graduates of Igbinedion University, the application process starts by filling the application online.
Pay an application fee of NGN15,000 ($41.55) to:

Bank Name: Zenith Bank
Account Name: ABC Microfinance Bank
Account Number: 1013139941

Visit the School of Postgraduate Studies & Research, Igbinedion University, Okada, with your evidence/details of the above payment to complete your registration process.
Contact numbers:
Dean PG School: 08034701511
Sec, PG School: 07032511003
Sub-Dean, Arts and Humanities: 08063170869
Sub-Dean, Science and Technology: 08037511008
Sub-Dean, CASS: 08038741315
Sub-Dean, College of Law: 0802359991
Sub-Dean, CBMS: 07035392472
Deadline for application into the PGD and Masters PROGRAMMESs is 31st March 2020. There is no deadline for application into the PhD Programmes.
That's the much we can take on the topic "Igbinedion University Okada IUO Postgraduate Admission Form 2020/2021".
Thanks For Reading
O3SCHOOLS TEAM
IUO RELATED POSTS
Igbinedion University Post UTME/DE Admission Form 2020/2021
Igbinedion University Courses & School Fees Schedule 2020
Igbinedion University, Okada (IUO) School Fees 2020/2021
Igbinedion University Okada Academic Calendar 2018/2019