Today, you and I will quickly talk about the topic "FUTO Post UTME Form 2023/2024 Is Out Online, futo.edu.ng | FUTO Latest News".
This has become absolutely necessary as a lot of FUTO aspirants have been asking us questions in our whatsapp and telegram group pertaining to the subject matter.
However, if you have been wondering about [futo post utme past questions, futo post utme 2023, futo post utme requirements, futo post utme 2023/2024, futo post utme form 2023, futo post utme slip, futo post utmeform 2023/2024, FUTO Post UTME Form 2023/2024 Is Out Online, futo.edu.ng | FUTO Latest News], then you can see that you are not alone.
Nonetheless, you shall get all the information you have been searching for right here on this blog.
LATEST NEWS
For Enquiries Message us on WhatsApp only 08132420817 to be Added to a WhatsApp Group
FUTO Post-UTME/DE sales of form, cut-off mark, cost, eligibility, screening dates, deadline, and registration details for the academic session have been announced. The cut-off mark is 160. The cost is N2000. See full details below
Candidates who chose the Federal University of Technology, Owerri as First Choice University in the 2023 Unified Tertiary Matriculation Examination (UTME) and Direct Entry (DE) are hereby invited for an aptitude Test.
The following conditions apply:
*UTME candidates must have scored a minimum of 160 in their UTME.
*Direct Entry candidates must be holders of OND/HND/First Degree and A'Level in relevant disciplines and subjects.
Those who did not choose FUTO as first choice University but scored a minimum of 160 can also apply on the condition that they visit the JAMB website for a change of Institution.
Application commences on Monday, October 17, 2023 and closes on Monday, October 31, 2023
Method of Application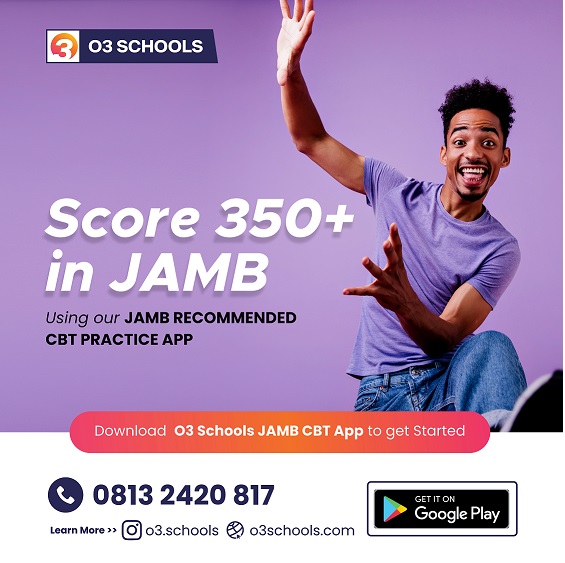 CLICK HERE TO DOWNLOAD JAMB APP NOW
DOWNLOAD O3SCHOOLS WAEC APP  AND ACTIVATE TO BLAST WAEC. CLICK HERE NOW
To register, follow the steps outlined below:
a) Visit the University website: www.futo.edu.ng
b) Click on "Prospective students"
c) Click on the link; " POST-UTME/Direct Entry Application".
d) Enter your JAMB Registration Number to generate Payment Invoice containing the Remita  Retrieval Reference Number (RRR).
e) Proceed to any Bank with the payment invoice OR simply pay with your ATM Card.
f) Return to the Application page and enter your JAMB Registration number again.
g) Proceed with the completion of the form.
h) Correctly enter your O'Level results.
i) Confirm your entries.
j) Submit your application.
k) Print out your acknowledgment slip.
l) Await further communication from the University.
2. Eligible candidates would be required to pay a processing fee of Two Thousand Naira (N2, 000.00)
3. Aptitude Test
An Aptitude Test will hold for both UTME and Direct Entry candidates, the specific date and time for individual candidates would be communicated in due course. Candidates are advised to ensure they message on whatsapp to get the official FUTO Post-UTME Past Questions and Answers in order to prepare adequately for the screening exercise. CLICK HERE to get yours.
NOTE:
1. You must enter a valid mobile number and e-mail address for further communications.
2. You must upload your O'Level results on JAMB PORTAL which would be used for the Admissions Exercise.
3. Those who fail to choose FUTO as their first choice University WILL NOT be qualified for the Aptitude Test.
4. Any candidate who fails to successfully submit his application online would automatically lose his/her chance of being considered for admission.
FOR DIRECT ENTRY CANDIDATES
: In addition to 1-4 above;
5. Kindly ensure that your academic transcript reaches the Registrar, Federal University of Technology,Owerri on/before Monday, October 31, 2023.
6. Any candidate who fails to submit his/her academic transcript would not be considered for Admission.
For support, contact:
E-MAIL: [email protected]
Hotline: 08139833300
SIGNED
H.O. MEZIEOBI ESQ.
For Enquiries Message us on WhatsApp only 08132420817 to be Added to a WhatsApp Group
This means that all you need to do is come back to keep checking for updates.
Finally, if you are on whatsapp, you can drop your number so we add you to our whatsapp group.
How to pass FUTO Post UTME  | Easy Smart Method
That's the much I cant take on the topic "FUTO Post UTME Form  Is Out Online, futo.edu.ng | FUTO Latest News".
Thanks For Reading