Today, you and I will quickly talk about the topic "FUTO Supplementary Admission Form 2020/2021 (Change Of Course) Released".
This has become necessary as a result of the very many searches we have been getting from several of our site visitors concerning when FUTO Supplementary Admission Form 2020/2021 will be Out as well as how to apply.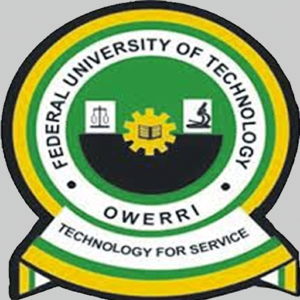 However, if you are among those that have been searching for answers to the above query as well as [futo supplementary courses, list of futo supplementary courses, futo supplementary courses 2020/2021, futo supplementary list, futo admission status, FUTO Supplementary Admission Form 2020/2021 (Change Of Course) Released], then you can be rest assured that you are not the only one searching.

Nonetheless, you shall get all the information you have been searching for right here on this blog.
This is to inform all the candidates that participated in Federal University of Technology, Owerri (FUTO) post UTME screening but didn't make it to FUTO Merit Admission List, that the management invites them to apply for the supplementary admission.
To be eligible for FUTO Change of Course / Supplementary Admission, candidate must have obtained a minimum Post-UTME score of 180.
Please, find below the list of Departments with vacancies, for supplementary admission. Kindly note that the aggregate score is calculated by dividing the sum of JAMB Score and Post-UTME Score by eight.
[Aggregate Score = (JAMB Score + Post-UTME Score)/8:]
S/NO.

SCHOOL

DEPARTMENTS

Minimum Aggregate Score

1.

Agriculture & Agricultural Technology

Agricultural Economics (AEC)

45

2.
Agricultural Extension (AEX)

45

3.
Animal Science Technology (AST)

45

4.
Crop Science Technology (CST)

45

5.
Fisheries & Aquaculture technology (FAT)

45

6.
Forestry & Wildlife Technology (FWT)

45

7.
Soil Science Technology (SST)

45

8.

Engineering & Engineering Technology

Agricultural

Engineering

(AGE)

45

9.
Food Science & Technology (FST)

45

10.
Mechatronics Engineering (MCE)

60

11.
Polymer & Textile Engineering (PTE)

45

12.

Health Technology

Environmental health science (EHS)

45

13.

Biological Sciences

Biology (BIO)

45

14.
Biotechnology (BTC)

45

15.

Physical Sciences

Chemistry (CHM)

45

16.
Geology (GLY)

45

17.
Mathematics (MTH)

45

18.
Physics (PHY)

45

19.
Statistics (STA)

45

20.

Environmental Sciences

Environmental Technology (EVT)

45

21.
Quantity Surveying (QSV)

45

22.
Surveying & Geoinformatics (SVG)

45

23.
Urban & Regional Planning (URP)

45
Click on

2018/2019 Supplementary Admissions exercise

.
Click on

"Generate Supplementary Admission Invoice"

.
Enter your JAMB Registration Number.
Print your invoice and proceed to any bank to pay a non-refundable fee of

N10,000.00

using your Remita Retrieval Reference (RRR) Code on the invoice.
Alternatively, you can make payment using the online payment options with credit/debit cards such as Verve, Visa, Master Cards.
After successful payment in the bank, return to the portal.
Repeat Steps (i) – (ii).
Click on "

Fill Supplementary Application Form

"
Complete and

submit the online

Supplementary Application Form.
Print out your "Acknowledgement Slip".
Note;
Please, note again:
that the closing date for the on-line registration for the supplementary application is 

31st October, 2019

;
that candidates who did not participate in the 2020/2021Post-UTME Exercise are not eligible for the supplementary application.
that candidates must have uploaded their correct O'Level results on JAMB portal.
That's the much we can take on the topic "FUTO Supplementary Admission Form 2020/2021 (Change Of Course) Released".
Thanks For Reading
FUTO Admission List 2020/2021 | 2nd Batch & Direct Entry FUTO Admission List Out
FUTO Post UTME Form 2020/2021 Is Out Online, futo.edu.ng | FUTO Latest News
FUTO School Fees 2020/2021 | New & Returning Students
FUTO Cut Off Mark 2020/2021 | Departmental & JAMB Cut Off Marks
FUTO JUPEB Admission List 2020/2021 | Check All Batches Right Here
Updated List Of Courses Offered In FUTO | Faculties&Courses
FUTO Direct Entry Admission Screening Form 2020/2021 Out | Apply For FUTO DE
FUTO Postgraduate Admission Form 2020/2021 Out | How To Apply Easily
Updated FUTO Postgraduate Courses 2020/2021 | 2020 FUTO PG School Fees Breakdown
Updated FUTO Postgraduate School Fees 2020/2021 | FUTO PG School Fees Breakdown
FUTO Supplementary Admission List 2020/2021 Released For Batch A & B | Check Now
Federal University of Technology Owerri FUTO JUPEB Admission Form 2020/2021
FUTO Pre-degree Admission List 2020/2021 Out | Check FUTO Pre-degree Lists Here
FUTO Postgraduate Admission List 2020/2021 Released | Check All Batches Here
FUTO Direct Entry Admission List 2019/2020 Is Out | FUTO Direct Entry 2020/2021
FUTO Weekend Part-Time Degree Programmes Admission Form 2020/2021
FUTO Pre-Degree Admission Form 2020/2021 Released | Apply For FUTO Pre-degree
FUTO Supplementary Admission Form 2020/2021 (Change Of Course) Released
FUTO Acceptance Fees 2020/2021 | FUTO Acceptance Fees Portal 2020 & Guidelines
Updated List Of Courses Offered In FUTO 2020/2021| FUTO Faculties, Fees & Requirements 2020