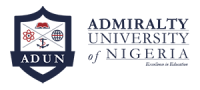 If you have been searching for Admiralty University of Nigeria ADUN School Fees 2020/2021, where is admiralty university of nigeria located, admiralty university of nigeria admission, admiralty university of nigeria courses, admiralty university portal, admiralty university of nigeria sapele, courses offered at admiralty university of nigeria, admiralty university courses, admiralty university of nigeria portal, then you are in the right place.
The Admiralty University of Nigeria was established as a Public-Private-Partnership (PPP) through the joint efforts of Nigerian Navy Holdings (a subsidiary organization of the Nigerian Navy) and Hellenic Education Nigeria – (a private consultancy, with international educators as main partners).
The objectives of the University are: to expand the frontiers of knowledge in various academic disciplines, in Nigeria; to use University education as a tool towards development and the enhancement of human welfare; to meet the challenges of nation-building in Nigeria; and to address the acute shortage of personnel in various sections of the economy in Nigeria.
As part of its declared National Policy on Education, the Federal Government of Nigeria hopes to provide education to all citizens. At the tertiary level, as with all levels, the Government has solicited and encouraged private participation to reduce its burden of educating all Nigerians.
It is in heed to this national call and in tandem with their own goals and aspirations that the above-mentioned education partners have established this new University.
The management of the Admiralty University of Nigeria (ADUN), Delta State, has released the school fees schedule for the 2019/2020 academic session.
ADUN School Fees Schedule.
Note to Mobile users: Scroll to the side to view all the contents in the table below:
Annual Tuition Fees and Other Costs for the academic year 2020/2021, as well as those for Accommodation and Feeding (meals) options and, are as follows:
1ST SEMESTER

2ND SEMESTER

ANNUAL TOTAL

TUITION FEES
280,000
280,000
OTHER CHARGES
Medical Insurance
30,000
–
–
Matriculation Gown (Rental)
10,000
–
–
Student Activities
20,000
–
–
E-Books & Technology
10,000
–
–
Hostel Maintenance
10,000
–
–
Caution
10,000
–
–
Examination
10,000
–
–
TOTAL OTHER CHARGES
100,000
–
–
TOTAL TUITION FEES/OTHER CHARGES
380,000
280,000
660,000
ACCOMMODATION (must select 1 option)
OPTION A
4 Beds in en-suite room
50,000
50,000
100,000
OPTION B
2 Beds in a en-suite Room
90,000
90,000
180,000
MEALS (must select 1 option)
OPTION A
3 Meals Daily
270,000
270,000
540,000
OPTION B
2 Meals Daily
220,000
220,000
440,000
GRAND TOTAL

OPTION A

650,000
550,000
1,200,000

OPTION B

740,000
640,000
1,380,000
Substantial Scholarships on the Tuition Fees are available to qualifying students
A payment plan is available with a minimum payment of 50% and the balance split over 3 equal monthly payments. Full cost must be paid by the end of each semester a payment plan is made.
The total does not include a Laboratory Fee of 30,000 that must be paid by each student in the Science Degrees
All payments must be made to the following designated ADUN Fees Collection Account.
That's the much we can take on the topic "Admiralty University of Nigeria ADUN School Fees 2020/2021".
Thanks For Reading