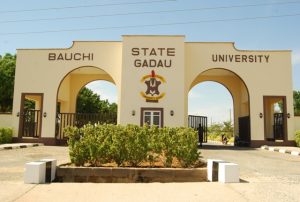 Today, you and I will quickly talk about the topic on "Updated List Of Courses Offered In Bauchi State University, Gadua (BASUG)".
This has become very necessary because of students planning to study in several federal universities in Nigeria especially BASUG
To ease your curiosity, we have compiled the complete list of Federal and State Universities in Nigeria in the link below.
Recommended:- Complete List Of Federal Universities In Nigeria
Also Read:- Updated List Of All State Universities In Nigeria
Therefore, o3schools is here to make life easy for every Nigerian Student and that's why we have also done a very complete and accurate job on JAMB subject combinations.
Highly recommended:- JAMB subject Combination For All Courses for Courses Offered In BASU
However, if you have been searching for [Bauchi state university campus, Bauchi state university school fees, Bauchi state university cut off mark, Bauchi state university recruitment, Bauchi state university faculty of law, Bauchi state university admission list 2020, Bauchi state university direct entry, Bauchi state university website, Updated List Of Courses Offered In Bauchi State University, Gadua (BASU)], then you are obviously not alone.
However, today, you will get all the information that you seek right here on our blog.
Without further ado, lets head to the topic on "Updated List Of Courses Offered In Bauchi State University, Gadua (BASU)"
What is known as Bauchi State was, until 1976, a province in the Northern Eastern State of Nigeria. According to the census in 2006, the state has a population of 3.5 million inhabitants.
Bauchi State occupies a total land area of 49.259.01 sq.km representing about 5.3% of Nigeria's total land mass and is located latitude 903' and 1203' North of the Equator. Longitudinally, the state lies between Longitude 8050' and 110 East of the Greenwich Meridian.
The state is bordered with by seven states; Kano and Jigawa to the North. Taraba and Plateau to the South, Gombe and Yobe to the East and Kaduna to the West.
Bauchi State University was established under the Bauchi State law promulgated in 2010. In March 2011 Bauchi State Government appointed a consultant to resolve all outstanding issues and put finishing touches necessary for the smooth take-off of the University to commence academic programmes in the 2011/12 session. Consequently, three campuses were approved, one in Gadau (Azare) which will be the main campus and home to the University's apex administration, then Misau campus and Bauchi campus respectively.
By the end of second phase 2016/17 to 2021/22, Bauchi State University is expected to have the following faculties and programmes.
The official website can be accessed by clicking here.
The following are the admission requirements to study at Bauchi State University (BASUG).
Therefore, the applicant must;
be at least 16 years of age at the time of applying for the admission.
have 5 credit passes in SSCE or its equivalent in not more than two sittings.
obtain a reasonable score in the Unified tertiary matriculation Board Exam.
The following are the faculties/colleges at Bauchi state university. They include faculty/college of;
Faculty of Arts and Education
Faculty of basic Health Sciences
Faculty of Law
Faculty of Science
Faculty of Social and Management Science
Read:- Complete List Of Courses Offered In All Nigerian Universities
The following are the complete and updated list of courses offered in BASUG.
In no particular order, the courses include;
Department Of ARABIC
Arabic Language
Department of Education
Biology Education
Chemistry Education
Computer Science Education
English Education
Library and Information Science
Mathematics Educarion
Physics Education
Department Of English And Literary Studies
English language
Literature In English
Department Of General Studies
General Studies
Department of Islamic Studies
Islamic Studies
Department Of Nigerian Languages and Linguistics
Languages and Linguistics (Hausa Option)
Department Of Human Anatomy
Human Anatomy
Department of Pharmacology
Pharmacology
Department Of Physiology
Physiology
Department of Public Health
Public Health
LAW
Law
Department Of Biochemistry
Biochemistry
Department Of Biological Science
Biological Sciences
Botany
Zoology
Department Of Chemistry
Chemistry
Department Of Mathematical Sciences
Computer Science
Mathematics
Statistics
Department Of Microbiology
Microbiology
Department Of Physics
Physics
Department Of Science and Laboratory Technology
Science Lab.Tech
Department Of Accounting
Accounting
Department Of Business Administration
Business Administration
Department Of Economics
Economics
Department Of Political Science
Political Science
Department Of Public Administration
Public Administration
Department Of Sociology
Sociology
These are the complete and updated and accredited List Of Courses Offered In Bauchi State University, Gadua (BASU).
However, this list will be updated any time a new course is added.
That's the much I Can take on the subject on "Updated List Of Courses Offered In Bauchi State University, Gadua (BASUG)".
Thanks For Reading
Finally, Remember that SHARING is CARING.