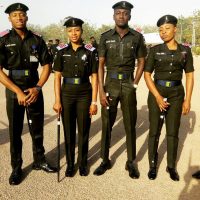 If you have been searching for Nigerian Police Academy School Fees 2023/2024, nigeria police academy past questions, nigeria police academy cut off mark, nigerian police academy form 2023, what are the requirement for nigeria police academy?, nigeria police academy training, nigeria police academy training, nigeria police academy short service, polac school fees schedule, nigeria police academy kano, then you are in the right place.
Lots of students put in for the Nigerian police Academy yearly and while they eagerly want to study in the academy, the fees which they will pay while they are in school is always a subject to think about. As a result of several misconceptions outside, this post has been made to enlighten students about the fees for the Nigerian Police Academy.
The government pays some money to those who enrolled in the Police Academy and study up to graduation. This is great news for those who have been dreaming about becoming a police officer but think the cost of education is too high. So, we know already that education in this academy costs nothing. Now we need to know which courses are available to those who are eligible. The point is that the application form costs money that is not refundable. This is why before you make any payments, you need to make sure that you are ready.
The faculty of humanities of the Academy offers the following programs: Linguistics (separately Nigerian languages and the English language) History and International studies
The faculty of social sciences and management offers the following programs: Economics and Accounting (separate courses) Management Political science Psychology and Sociology (separate courses)
The faculty of sciences offers the following programs: Biochemistry and General biological sciences (separate courses) General chemistry Computer sciences Mathematics and physics (separate courses) Forensic sciences
Also, there is a faculty of law that trains students in the general law program. The Academy awards a Bachelor's degree in all the courses offered there. After graduation, students of this academy will be able to work in the labor market like other graduates, and also they will have the possibility to work in Nigerian police as Assistant Superintendents all around the country. Again, education is free of charge for all students, at all courses.
Now, it's necessary to find out the eligibility requirements of the Nigeria Police Academy Wudil. Candidates must be Nigerian, between 17 and 22 years of age. Candidates should possess the following physical abilities and features: Height must not be below 1m 67cm (5 feet 6 inches) for male candidates and no less than 1m 62cm (5 feet 4 inches) for female candidates. In addition to this, males need to have a chest size of 91cm (36 inches) and above. Candidates should have no physical deformities and no mental disabilities.
That's the much we can take on the topic "Nigerian Police Academy School Fees".
Thanks For Reading
O3SCHOOLS TEAM
Ghana Police Service Recruitment  | Application Form, Requirements and Guidelines
Nigeria Police Force Massive Nationwide Recruitment | See Guide Here
US Army Recruitment For Non-Citizens (Africans)  | Application Details & Guide
French Army Recruitment  For Africans & Other Non-Citizens | Full Application Guide
Canadian Army Recruitment For Foreigners| Application Guide & Requirements
 Ghana Police Service Recruitment Graduate Professionals Requirements
 Ghana Police Service Recruitment Graduates General Duty Requirements
 Ghana Police Service Recruitment Tradesmen Recruits Requirements
Other Ongoing Recruitments

Adamawa State Civil Service Commission Recruitment  Form & Portal
Akwa Ibom State Civil Service Commission LGA Recruitment Form & Portal
Anambra State Civil Service Commission LGA Recruitment  Form & Portal
Bauchi State Civil Service Commission LGA Recruitment  Form & Portal
Bayelsa State Civil Service Commission LGA Recruitment  Form & Portal
Benue State Civil Service Commission LGA Recruitment Form & Portal
Borno State Civil Service Commission LGA Recruitment  Form & Portal
Cross River State Civil Service Commission Recruitment Form & Portal
Delta State Civil Service Commission LGA Recruitment Form & Portal
Ebonyi State Civil Service Commission LGA Recruitment  Form & Portal
Edo State Civil Service Commission LGA Recruitment  Form & Portal
Ekiti State Civil Service Commission LGA Recruitment  Form & Portal
Enugu State Civil Service Commission LGA Recruitment Form & Portal
Gombe State Civil Service Commission LGA Recruitment  Form & Portal
Imo State Civil Service Commission LGA Recruitment Form & Portal
Jigawa State Civil Service Commission LGA Recruitment Form & Portal
Kaduna State Civil Service Commission LGA Recruitment Form & Portal
Kano State Civil Service Commission LGA Recruitment Form & Portal
Katsina State Civil Service Commission LGA Recruitment  Form & Portal
Kebbi State Civil Service Commission LGA Recruitment  Form & Portal
Kogi State Civil Service Commission LGA Recruitment Form & Portal
Kwara State Civil Service Commission LGA Recruitment Form & Portal
Lagos State Civil Service Commission LGA Recruitment  Form & Portal
Nasarawa State Civil Service Commission LGA Recruitment  Form & Portal
Niger State Civil Service Commission LGA Recruitment Form & Portal
Ogun State Civil Service Commission LGA Recruitment  Form & Portal
Ondo State Civil Service Commission LGA Recruitment  Form & Portal
Osun State Civil Service Commission LGA Recruitment  Form & Portal
Oyo State Civil Service Commission LGA Recruitment Form & Portal
Plateau State Civil Service Commission LGA Recruitment  Form & Portal
Rivers State Civil Service Commission LGA Recruitment  Form & Portal
Sokoto State Civil Service Commission LGA Recruitment  Form & Portal
Taraba State Civil Service Commission LGA Recruitment  Form & Portal
Yobe State Civil Service Commission LGA Recruitment  Form & Portal
Zamfara State Civil Service Commission LGA Recruitment  Form & Portal
Abia State Civil Service Commission Recruitment Form & Portal