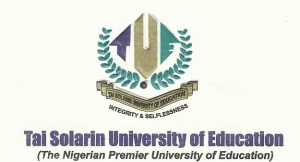 Today, you and I will quickly look through the topic "Updated and Official List Of Courses Offered In TASUED | TASUED Requirements".
SCORE 280+ In JAMB 2021 Download and Install JAMB CBT APP NOW for practice. CLICK HERE
Message  O8132420817  on Whatsapp for more info on How to Activate After Installing
Your success is directly proportional to your smart work and Hard Work
This has become very necessary because of students planning to study in several federal universities in Nigeria especially TASUED.
To ease your curiosity, we have compiled the complete list of Federal and State Universities in Nigeria.
Recommended:- Complete List Of Federal Universities In Nigeria
Also Read:- Complete List Of All State Universities In Nigeria.
Therefore, o3schools is here to make life easy for every Nigerian Student and that's why we have also done a very complete and accurate job on JAMB subject combinations.
Highly recommended:- JAMB subject Combination For All Courses For TASUED Aspirants
However, if you have been searching for [colleges in tasued, tasued direct entry admission requirement, tasued departmental cut off mark, tasued brochure, tasued school fees, tai solarin university of education direct entry, tai solarin university cut off mark, news on tai solarin university of education, Updated and Official List Of Courses Offered In TASUED | See New Courses Here], then you are obviously not alone.
Nonetheless, you will get all the information you have been searching for right here on this blog.
Therefore, without wasting much time, lets head to the subject of discussion "Updated and Official List Of Courses Offered In TASUED | See New Courses Here"
Tai Solarin University of Education (TASUED, pronounced TARSUD), established on 29th January 2005 by the administration of His Excellency, Otunba Gbenga Daniel, is a unique tertiary institution in the country. Apart from being the first of its kind in Nigeria, she also shares a unique feature as the only institution in the country that offers both the Bachelor's degree programmes in education (B.Ed.) and trains National Certificate of Education (NCE) graduates within the same academic environment.
TASUED is a transformation of the then Tai Solarin College of Education (TASCE) that was formerly Ogun State College of Education established in 1978. Students and staff statistics as at January 2005 showed that there were 12,544 both N.C. E. and Degree (full time and part-time) with a staff strength of about 669 of which 43% were teaching staff in all the 8 Schools in the College. The then College was affiliated to University of lbadan for the B.Ed programme and also worked out an affiliation arrangement with Adekunle Ajasin University, Akungba – Akoko, for a programme leading to the award of B.Sc./B.Tech. plus Postgraduate Diploma in Education. The qualification status of the lecturers revealed that there were 14 or 3.9% with Ph.D.
Justification
The justification for the establishment of the university is primarily in meeting the challenges of contemporary university crisis as briefly stated in what follows. Firstly, it is generally observed that there was a poor performance of first and second year students in the universities with high proportion of them having several courses to repeat at the end of the first year in the university. This is traceable to poor understanding of those subjects by these fresh students from the high schools and poor delivery of the subjects by the teachers, who themselves do not posses the required skill. This in turn was due in part to quality of teachers produced from several faculties of education from Nigerian universities.
A specialised. university of education is expected to redress this trend by ensuring graduate teachers have in-depth knowledge of the subject they are suppose to teach like any other university graduate from other faculties, but at the same time have teaching skills to disseminate the knowledge of subject known. Secondly, though, we have heard of the specialised universities such as University of Agriculture and Technology, but the basis of the basic education foundation in this country, that is the science, method and skills of effective teaching and learning at the primary and secondary schools was never the focus of any government.
Thirdly, Nigerian university curriculum is deficient in producing graduate that could work on their own or provide jobs for other after leaving the university. The major areas of deficiency in the university curriculum are vocational skills and entrepreneurship knowledge. The new university of education is expected to incorporate these in order to turnout graduates that are not only knowledgeable in the subject matter of their discipline but well rounded with a vocational skill and have entrepreneurship knowledge to make- maximum use of the resources around him or her to be self- dependent on leaving the university.
These three main reasons might have provided the fulcrum of having the first university of education in Nigeria. The need to enhance the quality of teaching and learning in the process of human capital development in a diverse and rapidly changing technological society has come to the fore. There is therefore the compelling need to set up a centre of excellence in education, which will serve as referral to existing faculties of education in Nigerian Universities and across the African continent in the field of educational pedagogy. The specialised Education University will also serve as a melting pot for the -formulation of educational policies and as a resource centre for the Colleges/Institutes of Education across the nation and even the NCCE.
VISION
The Vision of the TASUED is to be the preferred Education University, which will excel in preparing educators who will be leaders in all spheres of the discipline.
MISSION
Our mission is to enhance the quality of teaching and learning and continuously update the methods and skills of knowledge providers by equipping them with modern technology services delivered by skilled and motivated members of staff to meet the contemporary and future needs of Nigeria with the capability to compete globally.
PHILOSOPHY
To train teachers who are proficient in their respective disciplines and concomitantly possess vocational skills and entrepreneurial capabilities to achieve the required human capital for all round development. This will be in reference to the student's capacity for scholarship development that recognises: dignity of labour, personal integrity, and selflessness.
LANGUAGE OF INSTRUCTION
The language of instruction at this citadel of knowledge is English Language
The following are the admission requirements to study in TASUED.
Therefore, the candidate must;
The admission requirements for Bachelor's Degree Programme for both UTME and Direct Entry Candidates are as follows:
WAEC/NECO Senior School Certificate (SSC), General Certificate of Education Ordinary Level (GCE O'Level), or their equivalents with credits in five (5) subjects obtained at one sitting or six (6) credits at not more than two sittings. National Technical Certificate/National Business Certificate (NTC/NBC) is acceptable for Vocational courses only.
Nigeria Certificate in Education (N.C.E.) with at least Merit in 2 core subjects, GCE A'Level, HND (for some courses) in relevant areas with at least Upper credit, Cambridge (A level) Certificate, Academic Diploma from recognized Universities (for some courses) (in relevant areas) are required in addition to (1) for Direct Entry. Advanced National Technical/Business Certificate (ANTC, ANBC) is acceptable for Vocational courses only.
* A credit in O'Level English language is required for all courses
A credit in O'Level Mathematics is required for all Sciences, Vocational and Technical and Social Science-based courses.
Credit in Literature in English is required for English Language.
A credit in at least one science subject is required for Mathematics.
Candidates wishing to study Educational Management should have obtained credit in English Language, Mathematics and Economics at the Ordinary Level.
Credits in any two (2) of Geography, Economics, Government, Commerce, Christian Religious Knowledge, Islamic Religious Knowledge, History and Yoruba are acceptable for the study of Social Studies.
Candidates wishing to study Counselling Psychology with teaching subject options in science and social sciences must have credit in Mathematics.
Colleges of;
Postgraduate Studies
Vocational and Technology Education
Humanities
Social and Management Sciences
Specialized and Professional education
Science and Information Technology
Have you been searching for a particular course to study in TASUED but have not been able to because you don't know the list of courses offered in the university?
Do you intend taking JAMB this year and you do not know the courses offered in TASUED?
Then worry no more because below is a complete, official, NUC accredited and updated list of courses offered in TASUED.
In no particular order, they include;
| | |
| --- | --- |
| | EDUCATION |
| 1 | Agricultural Education |
| 2 | Biology Education |
| 3 | Business Administration |
| 4 | Business Education |
| 5 | Chemistry Education |
| 6 | Childhood Education |
| 7 | Christian Religious Studies Education |
| 8 | Computer Science Education |
| 9 | Economics Education |
| 10 | Education Management |
| 11 | English Education |
| 12 | Fine and Applied Arts Education |
| 13 | French Education |
| 14 | Geography Education |
| 15 | Guidance and Counseling |
| 16 | History Education |
| 17 | Home Economics Education |
| 18 | Human Kinetics |
| 19 | Integrated Science |
| 20 | Islamic Religious Studies Education |
| 21 | Library and Information Management |
| 22 | Mathematics Education |
| 23 | Physics Education |
| 24 | Petroleum and Chemical Science |
| 25 | Political Science Education |
| 26 | Secretarial Administration |
| 27 | Social Studies |
| 28 | Technical Education |
| 29 | Transport Planning |
| 30 | Yoruba Education |
Above is a complete and most recent list courses offered In TASUED.
However, this list will be updated from time to time pending when the authorities decide to add more faculties and courses.
That's the much I can take on the topic "Updated and Official List Of Courses Offered In TASUED | TASUED Requirements".
Thanks For reading
Finally, Remember That SHARING is CARING.
TASUED RELATED POSTS


TASUED Post UTME Form 2020/2021 Is Out, Tasued.edu.ng | TASUED Admission News"