Today, you and I will quickly take a good look at the trending topic tagged 'TASUED Post UTME Result 2020/2021 | How To Check TASUED Post UTME Result Easily".
This is so because the 2020/2021 Post UTME exam of TASUED has been fully concluded and of course the next shot for candidates will be how to check their results.
I am pleased to announce to you that TASUED post UTME Result is Out Online and in case you are among those who have been searching for, then you can see that you are not the only one.
However, you shall get all the information you have been searching for right here on this blog.
It is of course very relevant to note here that checking your result hasn't been any easier.
We are glad to inform all the candidates that participated in the TASUED 2020/2021 academic session post UTME screening exercise that their result is now out.
TASUED Post UTME screening results have been successfully uploaded online.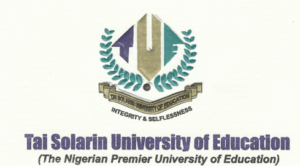 The results of the screening exercise should be checked on the Admission portal twenty four hours (24 hrs) after the screening exercise.
All correspondence on the screening exercise should be directed to [email protected] or addressed to the Admissions Officer at the University Main Campus, Ijagun, P.M.B. 2118, Ijebu-Ode, Ogun State. Telephone No: 08033517017.
SEE TASUED POST UTME CUT OFF MARKS 2020/2021
We at O3schools.com want to use this medium to congratulate all successful students in the just concluded TASUED Post UTME.
Go make us proud In the Nigerian Education Sector.
Nevertheless, That's the much I can take on the topic "TASUED Post UTME Result 2020/2021″
TASUED Registration and Clearance Requirements.
1. Clearance Certificate (Original) with signature and official stamp of the Head of Department .
2. TASUED provisional offer of Admission (Original).
3. Session UTME/DE Application Form (Bio Data Original).
4. Application Form Receipt (N2,000 receipt).
5. JAMB result slip (for UTME students)or JAMB acknowledgement form (DE) original .
6. JAMB Admission letter (original Institution copy).
7. Acceptance fee receipt (Stamped photocopy).
8. School fee receipt (stamped photocopy).
9. Registration fee receipt (stamped Photocopy).
10. 'O' level result(s) (Verified).
11. Transition letter with the score for Pre-Degree and Diploma from TASUED (stamped photocopy) ( if applicable).
12. Transition receipt for Diploma and Pre-Degree students (if applicable).
13. NCE or OND result for Direct Entry student.
14. Evidence of change of name or marriage certificate (where Applicable).
15. Medical fitness certificate(original copy) from TASUED Clinic.
16. Birth certificate or sworn declaration of age (photocopy).
17. Confirmed 2018 Ogun State Electronic tax clearance Certificate (e tax Ogun State educational levy receipt of parent/sponsor whose name was stated on P UTME form (Original stamped photocopy).
18. Reference letter from Public/Civil Servant of not below grade level 12 or equivalent (Original).
19. Acceptance form (Original).
20. Matriculation Oath
NOTE:
i. Candidates should ensure their files and documents are well perforated and tagged.
ii. Hostel address should be indicated on top of the personal bio-data in the green file.
iii. It is important that all information requested on the personal bio-data form and on the inside cover of the green file are adequately supplied.
iv. Students are advised to come along with the original copy of all the documents for sighting.
Finally, Please note here that the portal for checking result hasn't been activated yet. However, if you want us to update you, don't hesitate to drop your phone numbers so we can add you to our Whatsapp group.
Thanks For Coming Around
TASUED RELATED POSTS




TASUED Post UTME Form 2020/2021 Is Out, Tasued.edu.ng | TASUED Admission News"