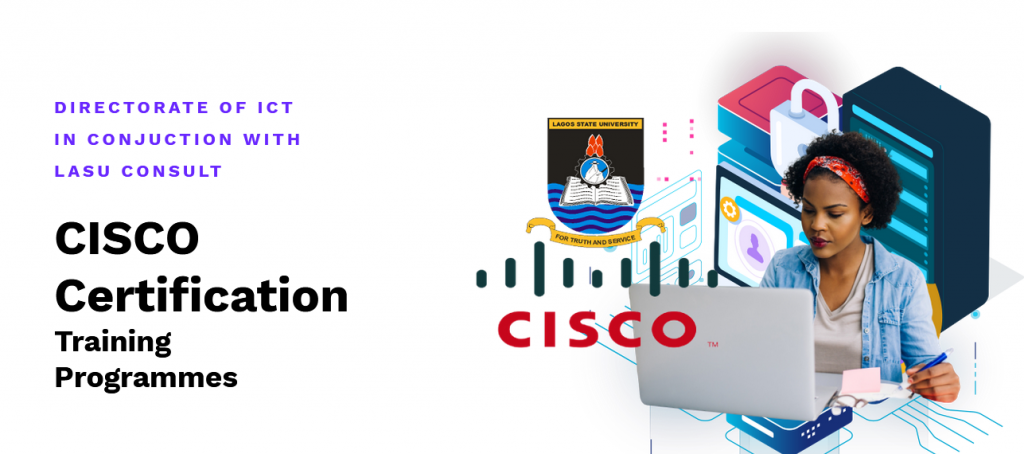 If you have been searching for Lagos State University LASU CISCO Certification Training Programmes 2023, then you are not alone.
Following the activation of the LASU Directorate of Information and Communication Technology as a CISCO Academy, interested staff and students are hereby invited to apply for the CISCO CERTIFICATION TRAINING PROGRAMMES organized by CISCO in partnership with LASU DICT and in Conjunction with LASU Consult Limited.
LASU CISCO Certification Training Programmes
AVAILABLE COURSES
CCNA: Introduction to Networks (5 Weeks)
CyberSecurity Essentials (5 weeks)
Networking Essentials (4 weeks)
IoT Fundamentals: Connecting things (3 Weeks)
PCAP: Programming Essentials in Python (4 weeks on-site, 4 weeks online)
CCNA: Switching, Routing and Wireless Essentials (5weeks on-site, 2 weeks virtual, 3 weeks Practical Lab)
(All courses are on Tuesdays and Thursdays)
FEES
Application Fee: #15,000
Programme Fee (LASU Students): #30,000.00
Programme Fee (Others): #45,000.00
PROGRAMME KICK-OFF DATE
Thursday, April 6th, 2022
Discount Students from the LASU CISCO Academy will be given a discount on the Certification Examination.
For further details:
Directorate of ICT, Hall 003, Ojo Campus
09057029831
To Register, Apply:
https://lasu.edu.ng/home/cisco
That's the much we can take on the topic "Lagos State University LASU CISCO Certification Training Programmes 2022".
Thanks For Reading
O3SCHOOLS TEAM