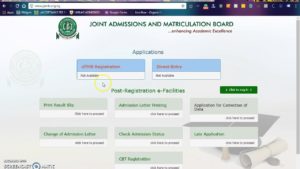 The last article I wrote on JAMB Profile Creation was entirely awesome.
I enjoyed the reader engagement as you made sure you followed me step and step and created yours.
Today, You and I are going to Learn How to fill  JAMB 2019 form in less than 5 minutes.
Please follow me closely so you get the full the gist.
How To Fill JAMB 2019 Form
Doing this is going to be extra easy if you follow me closely and it will be a part of you right till when you need it.
Remember that Early preparation prevents Poor Performance
You and I will do this real quick in just four easy steps outlined below
Create a GMAIL account for JAMB Profile Creation
Then Create your JAMB profile
Get to designated venues to purchase your E-PIN
Visit the nearest registration centre for final registration
Pretty easy right?. Now, lets get to it proper.
Create A Gmail For JAMB Profile Creation
In my last article, you and I dealt with how to create a GMAIL account for JAMB profile creation.
Therefore, going over it again will be a waste of our reading time. Follow the guideline in the link below.
How to create A Gmail Account For JAMB Profile Creation
If you follow it carefully, you will create yours in less than 3 minutes.
JAMB Profile Creation
This is about the easiest thing to do when you want to fill JAMB 2019 form. You can create your JAMB profile in less than 5 Minutes.
The good part is that you and I have done that in the link below.
Create Your JAMB profile In less than 5 Minutes here
If you use the guide in the link above, it will seems as you did it yourself initially.
Go Get Your JAMB E-PIN
After you have successfully created a Gmail account and created your JAMB profile, to fill JAMB 2018 Form is halfway done.
Then, head to any of the following places to get your JAMB E-PIN;
First Bank
Zenith Bank
Skye Bank
Nipost
Union Bank
Of course, fill JAMB 2018 gladly because that's simply all about it.
WARNING:- Fill the form before the expiry date
The other things are easier as they are based on your choice. lets see a few of them.
Other Things You Need To Fill JAMB 2019 Form
You need to decide on the 3 other subjects you are going to write with the exception of English Language.
If you don't know how to choose your subject combinations, see all the courses offered in Nigerian Universities and subject combinations.
Read…………………..A-z of all courses offered In Nigerian Universities
Read Also…………..Subject combinations of all courses in Nigeria.
You will chose your examination town but JAMB will assign the particular center for you. See all the list of designated centers in the link below;
List of all registration centers word wide
Input 3 choices of educational institutions you will like to study.
Then choose a course for each of the institutions. Nevertheless, you can choose same course for all three.
Get a clear passport photograph not up to 3 months old. It is advisable to snap a new one entirely.
Go to the center likewise with your O' level results.
Also read
JAMB 2019 registration form is out|See registration details
I hope To you help fill JAMB 2019 forms of other aspirants with this knowledge. Thanks for the time
o3schools Team