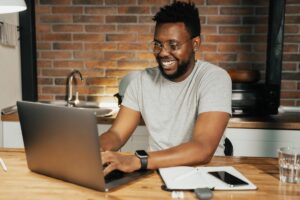 Online courses can offer you quality education. Technology has continued to grow rapidly, making online education easy to access. Today the world of business is constantly changing. You must continuously keep learning and improving your skills to stay ahead of this curve. Most
people in employment have busy schedules.
However, online platforms have become an effective and convenient way for millions of people to access and learn business courses.
Different platforms provide online courses that can significantly benefit you, especially for people with busy schedules. This article explores the many benefits that online business courses provide.
Whether you are a seasoned professional aspiring entrepreneur or want to invest in your professional growth, online business courses will help you achieve your career goals. Online courses are a great way to boost your skills and diversify your expertise in different business
areas. Whether you want to boost your skills in marketing, leadership, finance, and other areas, you can find a suitable course for your needs.
Below are the top benefits that online business courses have to offer. They include;
1. Cost-effective
Online platforms have provided a cost-effective option for people to learn. Online courses are less expensive than those taken in a regular classroom. Participants get to save money. You don't have to pay for transportation, accommodation, or other expenses. The best online courses platform offers payment plans and discounts, allowing a broader audience to access online courses. So by enrolling in an online business course, you can affordably enhance your business skills.
2. Flexibility
This is another significant advantage that online business courses provide. Participants can learn at their own pace without worrying about attending physical classes at specific times or locations. With online courses, you can set your schedule and learn when it's most convenient for you. This allows you to balance your work, family, and personal life while investing in your professional growth.
3. Helps to expand your perspective
If you choose an online business course featuring social interaction, it's a chance to interact with other learners nationwide. You can easily share different perspectives and share complex business concepts. You also find solutions to the challenges as a team. The best online courses
platform provides you with a global reach. Discuss your opinions with other professionals who have also faced different challenges. Online platforms allow students to share their views and strategies with diverse students. This helps you to broaden your thinking and makes you an
accomplished professional.
4. Diverse Course Offerings
Online business courses offer various topics, from digital marketing and entrepreneurship to accounting and finance. Select a business course matching your career goals and interests and gain the knowledge and skills required to succeed. Moreover, online courses often provide a
platform for interacting with instructors and other students, giving you access to diverse perspectives and valuable networking opportunities.
There are many online course platforms available. So it is essential to choose a platform that meets your needs. Consider credibility and reputation, certification, support and feedback, and course format, among other things. Take your time to choose the best platform.