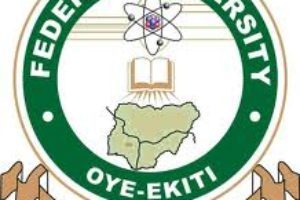 If you have been searching f0r FUOYE–LASPOTECH Degree & HND Conversion Programme 2019/2020,, fuoye top up program, ui hnd conversion programme, 1 year top up degree in nigeria, hnd conversion universities in nigeria, fuoye top up degree and hnd conversion programme, conversion of hnd to bsc in university of ibadan, fuoye top up degree program, top up degree in nigerian universities, then you are in the right place.
The Top-Up (Degree and HND Conversion) Program provides a platform where opportunities are made available for quality University education for the target beneficiaries.
Federal University Oye Ekiti, has introduced a new program for Nigerian University and Polytechnic graduates in a bid to remedy the results of those who were unable to standout academically during their first degree due to one challenge or the other.
FUOYE – LASPOTECH Top-Up (Degree and HND Conversion) Programme Objectives.
The Objectives of the FUOYE Top-Up (Degree and HND Conversion) Programme are to:
provide suitable academic programmes that would facilitate conversion from HND to University degree certification
make available contents and instructions that would upgrade the quality of University degrees from Third Class and or Pass.
facilitate University education, that will lead to change of degree/ career, where necessary.
bring an academic level ground for degree Inequality
FUOYE – LASPOTECH Top-Up (Degree and HND Conversion) Courses.
FUOYE – LASPOTECH Top-Up (Degree and HND Conversion) Programme Admission Requirements, Duration & Contact Period.
Requirements:
Candidates must satisfy the following admission requirements: Applicants must possess a minimum of Five (5) O-levcl subjects at credit level in relevant subjects in not more than two (2) sittings. In the subjects relevant to their proposed programmes, English Language and Mathematics at credit level are compulsory for all candidates for Engineering, Science and Social Sciences. Minimum of Third Class Honors or Pass at Degree or HND certificate from a recognized institution,
ICAN, ANAN and CIB Final Exams are required for conversion programme. Completion or exemption from the mandatory National Youth Service Corps (NYSC) Scheme Is essential
Who can apply?
University graduates with Third Class or Pass degree
HND graduates desirable of University degree.
Graduates with interest in career change (e.g. graduate of Chemistry wishing to change career to Bio Chemistry etc).
Duration: Six (6) Semesters (3 Sessions)
Contact Period: Lectures Shall Take Place @ Laspotech Ikorodu Campus (Saturdays & Sundays) only.
How to Obtain FUOYE – LASPOTECH Top-Up (Degree and HND Conversion) Form.
Pick your hard copy form at the Centre for TOP-UP Degree and HND Conversion Programme Office, Lagos State Polytechnic Konsult, Ikorodu, and pay a non refundable fee of N15,000 (fifteen thousand naira only).
Present the duly Completed form with Relevant Credentials (Original and Photocopies) and receipt for purchase of form for screening at the Top Up and HND Conversion Unit, Laspotech Konsult Office, Ikorodu, Lagos State.
Schedule of payment fees shall be provided, if found qualified for Admission. INSTALMENTAL PAYMENT IS ALLOWED
For Further Enquiries Contact:
Oluwasegun Ajayi (Laspotech) 08167038557, 08123135537.
Engr. Adofemi Adckunle (Fuoyo) 09058309801, 07035677898.
That's the much we can take on the topic "FUOYE – LASPOTECH Top-Up Degree and HND Conversion Programme 2019/2020".
Thanks For Reading
O3SCHOOOLS TEAM