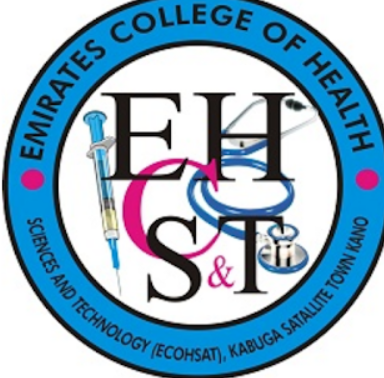 If you have been searching for ECOHSAT Admission Form 2023/2024 | ND, HND, Diploma & Cert., then you are not alone.
Applications are invited from suitably qualified candidates for admission into the Emirate College of Health Sciences and Technology (ECOHSAT), Kano State for the  academic session.
The following courses are open for admission in ECOHSAT, Kano for the academic session.
Available Courses
COMMUNITY HEALTH PROGRAMME
Community Health Department
(BSc) Community Health
Certificate Junior Community Health Extension Worker (JCHEW)
Conversion Community Health Extension Worker Retrainee
HND Community Health Extension Worker
National Diploma Community Health
Professional Diploma Community Health Worker (CHEW)
DENTAL HEALTH SCIENCES
Dental Health Sciences Department
Conversion Diploma Dental Surgery Technician
HND Dental Therapy
ND Dental Health Therapy
National Diploma Dental Health Technology
National Diploma Dental Health Therapy
Professional Diploma Dental Surgery Technician
ENVIRONMENTAL HEALTH TECHNOLOGY
Environmental Health Technology Department
Conversion Environmental Health Technology
HND Environmental Health Technology
National Diploma Environmental Health Technology
GENERAL AND ALLIED MEDICAL SCIENCES
General and Allied Medical Sciences Department
(BNSc) Bachelor of Nursing Science
National Diploma Nutrition and Dietetics
GENERAL/ALLIED REMEDIAL SCIENCES
General Allied Remedial Sciences Department
Remidial Basic Sciences
HEALTH INFORMATION MANAGEMENT
Health Information Management Department
Conversion Health Information Management
HND Health Information Management
ND Health Information Management
Professional Diploma Health Information Management
MEDICAL LABORATORY SCIENCE TECHNOLOGY
Medical Laboratory Science Department
Conversion Medical Laboratory Technician
Professional Diploma Medical Laboratory Technician
PHARMACY TECHNICIAN PROGRAMME
Pharmacy Technician Department
Professional Diploma Pharmacy Technician (Cadre)
PUBLIC HEALTH PROGRAMME
Public Health Programe Department
HND Public Health Nursing
METHOD OF APPLICATION
Applicant MUST ensure that he/she has :-
An active email address
Checked the available programs published above.
APPLICATION GUIDELINES
You can purchase forms online at just N8,500 or visit the school at ECOHSAT Kabuga Satellite Town Kano. For more information, visit www.Ecohsat.edu.ng or contact us on our official numbers: 08182547149/09138088744/08037709304.
All NEW APPLICANTS must fill all the details required on the form displayed and click on the Sign -up button to create an account for the application
For applicant that already has an account , Click login to continue your application using your e -mail and password
On successful creation of account, you will be taken to a page (bio-data) where you will continue filling the application form
Fill your basic information such as gender, date of birth, phone number, etc.
Click O-Level link on the left side to add O'Level result
Click additional qualification to the entries for your respective program for programs that require
additional qualification
Click JAMB details to add your JAMB information
Click Photo and Signature to add your recent passport photograph and signature
Click Declaration to finally submit the application
All programs with additional qualification require Transcript, therefore click Transcript request to print the form that will be taken to the institution you graduated for processing of the Academic transcript to be sent to the College.
You can logout at any stage and continue anytime within the application duration period
Click Acknowledgement link to print your acknowledgement page for future references
Click logout to sign out from your account
NOTE:
1. Make sure you fill all the required information before you submit the application on declaration
page.
2. You can login later and check the status of your application by clicking Admission status
3. The College shall not be held responsible for not considering applicant with incorrect or incomplete information.
Entrance Examination Date
This is to inform the public that the Emirates College of Health Sciences and Technology 1st batch screening exercise for the 2020/2021 academic session has been scheduled to hold as follows;

Date: Yet to be announced
Time: 9am
Venue: College ICT Center
Deadline:
For more Enquiries call or WhatsApp: 08030702968, 08037709304 or Email: [email protected].
That's the much we can take on the topic "ECOHSAT Admission Form  | ND, HND, Diploma & Cert.".
Thanks For Reading
O3SCHOOLS TEAM