Today, you and I will quickly take a look at the topic "AAU Ekpoma IJMBE Admission Form 2020/2021 Released | Apply Now".
This has become necessary as a result of the very many emails and calls we have been receiving from FUNAI predegree aspirants pertaining when the AAU Ekpoma IJMBE Admission Form 2020/2021 will be out on sale for 2020/2021 academic session.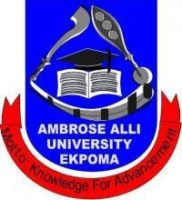 However, we are glad to inform all those who have been searching for [aau ijmb school fees, aau jupeb, aau admission update, aau ekpoma latest news, is aau post utme form out, aau latest admission news, aau post utme cut off mark, aau admission requirements, AAU Ekpoma IJMBE Admission Form 2020/2021 Released | Apply Now] that the FUNAI Pre-Degree Admission Form 2020/2021 is Out.
Without wasting much time, lets head to the topic proper.
AAU Ekpoma IJMBE Admission Form 2020/2021 Released | Apply Now
Applications are invited from suitably qualified candidates for admission into the Interim Joint Matriculation Board Examination (IJMBE) programme of Ambrose Alli University, Ekpoma for 2020/2021 session.
The Interim Joint Matriculation Board Examination (IJMBE) is a national examination body approved by the Federal Government of Nigeria and fully certified by Nigeria University Commission (NUC) as an alternative to 'A' level Examination, for candidates who may wish to seek for undergraduate admission into Universities both in Nigeria and abroad.
The IJMBE programme was envisioned as a stop-gap or bridge after secondary school education, which will prepare candidates academically, mentally and socially for the challenges of University education.
The programme runs for a period of twelve (12) calendar months divided into two (2) semesters.
AAU Ekpoma IJMB Courses & Subject Combinations.
Each candidate for the IJMBE programme is expected to offer three (3) combinable subjects at the Advanced Level relevant for pursuance of a University degree on successful completion of the IJMBE programme.
These combinations relate to Direct Entry requirements for various programmes of study in the university as specified in the JAMB brochure.
Note to Mobile users: Scroll to the side to view all the contents in the table below:
S/N
SUBJECT COMBINATIONS
UNDERGRADUATE COURSES
1.
Biology, Chemistry, Physics
Botany
Biochemistry
Microbiology
Zoology
Agri. Economics and Extension
Animal Science
Crop Science
Soil Science
Anatomy
Physiology
Medicine
Medical Lab. Science
Nursing
2.
Chemistry, A/L Mathematics, Physics
Chemistry/Industrial Chemistry
Computer Science
Mathematics/Industrial Mathematics/Statistics
Physics/Geophysics
Architecture
Building
Civil Engineering
Electrical/Electronics Engineering
Industrial and Production Engineering
Mechanical Engineering
Building
3.
CRS, Government, Literature
Law
Political Science
Public Administration
Psychology
Sociology
English
History and International Studies
Religious Mgt & Cultural Studies
Philosophy
Theatre and Media Arts
4.
Economics, Government, A/L Mathematics
Accounting
Banking and Finance
Business Administration
Economics
5.
Relevant combinations in 1, 2, 3 and 4
Curriculum & Instruction
Educational Foundations & Management
Guidance and Counseling
Human Kinetics and Health Education
Voc. And Technical Education
AAU Ekpoma IJMB Admission Requirements & Duration.
ADMISSION REQUIREMENTS:
Applicants must possess at least five (5) credit passes in not more than two (2) sittings in SSCE/WASC/GCE O'Level/NECO/NABTEB which must include English Language and Mathematics. At least, three (3) of the credits must be in relevant subjects.
ADMISSION TO UNIVERSITIES USING IJMBE RESULTS:
Candidates who have successfully completed the IJMBE programme may seek admission into 200 level in Ambrose Alli University or any other Nigerian University via JAMB Direct Entry (DE) form. IJMBE result does not require JAMB UTME/Screening Exercise for admission.
Candidates may also use the IJMBE results, being an Advanced Level qualification similar to Cambridge or London Advanced Level qualifications, to seek admission into foreign Universities.
DURATION OF PROGRAMME:
Twelve (12) calendar months divided into two (2) semesters.
How to Apply for AAU IJMB Admission.
Twelve (12) calendar months divided into two (2) semesters.
Method of Application
Please visit the University website: www.aauekpoma.edu.ng and portal via https://aaue.waeup.org  for details on purchase of form and procedure for application.
Application form costs N17,250.00 (Seventeen Thousand, Two Hundred and Fifty Naira)
DEADLINE:
DURATION OF APPLICATION: Application forms for the IJMB programme will be available online for completion and submission latest 12th April 2021.
That's the much we can take on the topic "AAU Ekpoma IJMBE Admission Form 2020/2021 Released | Apply Now".
Thanks For Reading
Related AAU Articles
AAU Ekpoma Bridge Programme (HND to Degree Conversion) Admission Form 2020/2021 Out
AAU Ekpoma Fresh Students Registration & Clearance Procedure 2020/2021
AAU Ekpoma IJMBE Admission Form 2020/2021 Released | Apply Now
AAU Foundation (Pre-Degree) Programme Admission Form 2020/2021 Released | Apply
AAU Post UTME Form 2020/2021 Is Out Online, Aau.edu.ng | AAU Admission News
AAU Admission List 2020/2021 | AAU 1st Batch, 2nd Batch, 3rd Batch & DE Admission List Out
Updated List Of Courses Offered In Ambrose Alli University (AAU) 2019/2020 & Requirements
AAU Acceptance Fees 2020/2021 | AAU Acceptance Fees Portal 2019 & Guidelines
AAU Cut Off Marks 2020/2021 |AAU 2020 JAMB & Departmental Cut Off Marks
AAU Postgraduate Courses 2020/2021 | AAU 2020 PG School Fees Breakdown
AAU Post UTME Result 2020/2021 | How To Check Ambrose Alli University Post UTME Result Easily
AAU Ekpoma Part-Time Degree Admission Form 2020/2021 Released | See Application Deadline
AAU Ekpoma Departmental Cut Off Marks 2020/2021
AAU Certificates | Step By Step Procedure To Collect AAU Certificates Easily
AAU Foundation Pre-Degree Programme Admission Form 2020/2021 Released | Apply
AAU School Fees Schedule For Returning Students 2020/2021 | Ambrose Alli University Fees
AAU Postgraduate Admission Form 2020/2021 Out | Apply Now
AAU Postgraduate School Fees 2020/2021 | AAU PG School Fees Breakdown