Have you been searching for something a little bit concrete about "The Tournament Film of 2015" and you are not yet satisfied with what you have been getting out there?,then you are in the right place.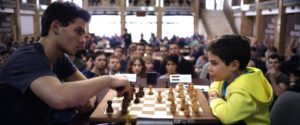 In this article, we are going to write a brief review of that movie with had a running time of 1 Hour 23 Minutes and ably produced by Lola Gans, then written and directed by Elodie Namer. The movie was released on the 29th of April 2015 in France.
The film starred Michelangelo Passaniti, Lou de laage and Adam Corbier. It tells a story about a Budapest international chess Tournament Champion Cal Fournier (22), A French immature genius, a compelling player, who is disconnected from the world because he has lost himself to the games and bets with his friends and girlfriend, but he is soon to come to ruin when a 9 years old Hungarian boy Max Kovak puts a stop to his easy routines of winning.
Cal becomes obsessed with this little boy because he knew the biy was better than him and it made him both afraid and angry. Budapest was having a seven days tournament in an hostel, Cal usually is predicted to win but with this 9 years old, it might not go as planned.
CAST
Michelangelo Passaniti as Cal
Lou de Laâge as Lou
Magne-Håvard Brekke as Viktor
Adam Corbier as Max
Fabien Libiszewski as Aurélien
Thomas Solivéres as Mathieu
Aliocha Schneider as Anthony
Viktoria Kozlova as Andrea
Ana Neborac as Natacha
Magdalena Korpas as Irina
Victoire Gonin-Labat as Eleanor
Music by
Dombrance
Cinematography
Julien Poupard
Edited by
Nicolas Desmaison
Julien Ouvrard

Production
company

24 Mai Productions
France 2 Cinéma

Distributed by
Diaphana Films

Release date

21 April 2015 (COLCOA)
29 April 2015 (France)

Country
France
Language
French
English
Hungarian
I hope you enjoyed the review.
Thanks For coming around.