Nigeria Drivers License Renewal | A Complete Guide On Drivers License Renewal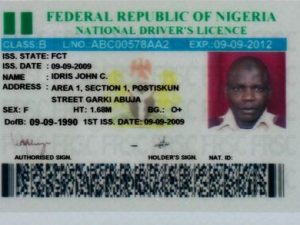 If you have been searching for Nigeria Drivers License Renewal | A Complete Guide On Drivers License Renewal, drivers license verification, how to get drivers license in nigeria, frsc, banks to pay for nigerian drivers licence, grace period for expired drivers license in nigeria, nigeria drivers license sample, nigerian drivers license template, driver's license re-issue, drivers license verification, then you are in the right place.
The post below will guide you through a time-saving Nigeria driver's license renewal process within 30 minutes.
Overview of driver's license renewal in Nigeria
The Federal Road Safety Corps (FRSC) was created to make sure that road users abide by rules and regulations and also to ensure they meet the necessary requirements for using an automobile. One of those requirements is having a driver's license. Getting a driver's license is not so easy but it's important so you can avoid being stopped regularly by the officials of the FRSC or even the police. However, your driver's license carries an expiration date which means you'll have to renew after a period of time – usually 5 years. One thing a lot of people have always worried about is how to renew their driver's license.
Why do you need to renew your driver's license?
Driver's license renewal comes after five years, and in some cases, four years, depending on the office you're renewing at. This renewal is important as you can get fined up to 10,000 Naira or even more if you are caught driving without the license. Keep in mind that the same license can serve as a means of identification, so you're obviously going to be carrying a multipurpose plastic card.
Asides not carrying your license, carrying an expired driver's license also comes with a fine. That's why it's important to go for a rental even before your license expires. Since the driver's license lasts 4-5 years, you can go for a renewal 4 weeks before the month of expiration. The office gives you a letter that covers your movement while your license is been sorted.
How many ways are there to renew your driver's license?
You might also be wondering if there's just one specific way for driver's license renewal. Well, there are two major methods of getting it done – online and by going to the FRSC office or license office (depending on what is obtainable in your city). A lot of Nigerians prefer going to the physical office because they believe a face to face interaction makes it faster and is more reliable. But it's worthy to note that the online process takes less time and you can pretty much apply or submit all that is required, from the comfort of your home.
When can you renew driver's license online?
If you used to apply for Nigeria driver's license renewal at FRSC offices years ago, you would understand the pain. Time-consuming procedures, totally exhausted body and mind, excessive cost and countless added fees that came from nowhere you can perceive.
Fortunately, gone are the days we have to put up with all of these because you can now renew drivers license online and only need to visit the office to submit the documents.
Should you want to do vehicle licence renewal in Lagos, you can refer to MVAA website. Otherwise, please follow the FRSC procedure on their official web .
However, before reading how to renew driver's license in Nigeria, make sure you meet these criteria to do Nigeria drivers license renewal online.
You have access to a computer with an Internet connection
The computer is connected to a printer or photocopier
You have bank cards to make online payment
Your drivers license will expire within 30 days
The first two are easy to handle as you can go to a photocopy shop or a business center which can offer an Internet-accessed computer and printer.
Steps for Online Drivers License Renewal in Nigeria
The process of drivers license renewal in Nigeria starts now!
Go to Federal Road Safety Corps' website, License Renewal tab at: https://www.nigeriadriverslicence.org/dlApplication/renew
Fill in your license number and date of birth
Click on Search. If your license is still valid for more than 30 days, you can't proceed to driving licence renewal form.
Pick your choice for Nigerian drivers license renewal: new license valid in 3 years or 5 years.
The cost of renewing drivers licenses in Nigeria includes fees for these two options and some extra charges. 3-year license costs N6,350 while the 5-year one goes for N10,450.
Scroll down and carefully check your biodata. You can update or correct the information if necessary.
Select your Processing Office where you will submit documents and pick up your renewed license.
Choose to re-do your biometric capture at the office or not.
Click Submit when finish.
Check the preview page in details to make sure everything's correct.
Do the payment online with Interswitch, Visa or MasterCard. After your payment is confirmed, the Driver's License Application Acknowledgement Slip will be displayed.
Copy the Application ID and print out the slip (two copies are recommended)
Return to the navigation menu of the web, choose Track DL Application status.
Paste the Application ID and your date of birth. Print out another two copies of Payment Confirmation Slip.
Finish the FRSC drivers license renewal at the office
After completing all the steps online, you must visit your chosen Processing office to finish the renewal of the driving license in Nigeria. Bring with you:
Copies of Driver's License Application Acknowledgement Slip
Copies of Payment Confirmation Slip
Copy of your current driver's license along with the original one.
At least 2 passport photos.
Now, come to the office and get everything done!
Present all required documents to FRSC officer
Have your acknowledgment slip validated at MVAA section (Motor Vehicle Administration Agency)
Take a short written test (10 simple questions related to traffic rules and regulations) at the VIS (Vehicle Inspection Service). Pay N2,200 and get the receipt for this test.
If you don't choose to recapture your biometric data, then you're done. In case you selected it when applying online, you might need 10 more minutes to recapture it in the office.
That's all the steps and drivers license renewal requirements at FRSC offices. They will notify you when you can come to pick up the renewed license. The normal time is about 3 months.
In the waiting time, you can do either of this to avoid trouble with the traffic police.
Bring your acknowledgment slip (if you don't recapture biometric data)
Bring your temporary license card (given after you recapture biometric data)
So, how long can you go without renewing your driver's license? You might ask.
Actually, there haven't been any updates on fines if you carry an expired driving license. However, the law says that all drivers must conduct the renewal of driving license after expiry or you will have to apply for the driving license all over again.
What is the new bypass capture?
Bypass capture is a new measure by the FRSC to make it easier for old license owners to easily renew their license without the hassle of doing the application all over again. The bypass capture is available on the portal of the driver's license and allows you recapture your biometrics. But not everyone is eligible for the bypass capture.
How to know if I'm eligible for bypass capture
This feature is only available to those who have had their data in the FRSC database already. It allows you renew and capture biometrics up to the second renewal time. However, you'll have to do a fresh application from the third time.
Drivers license renewal cost in Nigeria
According to FRSC, the official fee to renew a driver's license in Nigeria is 6,350 for a 3-year license and 10,350 for a 5-year. However, this cost may go up to 12,000 or even 15,000 in reality. You just asked why? Because this is Nigeria and there are several factors you should expect when dealing with paperwork here.
To get your driver's license quickly, careful preparation is a must
FAQs about driver license renewal in Nigeria
How long do you have to wait to collect your driver's license?
You will have to wait for 90 days after the online application process to get your drivers license. Apparently this is to ensure your data is properly entered into all necessary database.
How do I check my drivers license status in Nigeria?
You can check your drivers license status on the Nigerian DL website, cited above.
Can you drive while waiting for your renewed license?
Yes you can drive while waiting for your license. The office gives you a letter that also serves as a permit. It has an expiration date as well, because it is expected that your license will be ready before the said date.
What happens if you are caught driving with an expired license?
If you are caught driving with an expired license, the license will be confiscated and you will be fined. So about it at all cost.
Is there a grace period for renewing a driver's license in Nigeria?
You're expected to do your drivers license renewal a month before it expires.
Above is the comprehensive list of steps you must go through for Nigeria drivers license renewal with drivers license renewal cost for specific stages. Prepare everything carefully and you can get it done less than 30 minutes, both online and in the FRSC office.
That's the much we can take on the topic "Nigeria Drivers License Renewal | A Complete Guide On Drivers License Renewal".
Thanks For Reading
O3SCHOOLS TEAM