How To Write A UNIQUE Affidavit Of Non Membership Of Secret Cult

How To Write A UNIQUE Affidavit Of Non Membership Of Secret Cult
Today, you and I will go through Write A UNIQUE Affidavit Of Non Membership Of Secret Cult.
If you are reading this, it therefore means that you have been admitted into school.
Moreover, even though you have not been admitted yet, you are quite confident that you will gain entrance into your desired institution by God's Grace soonest.
I hope to see a couple of AMEN in the comment box.
Nevertheless, some new students always think that writing a unique affidavit of non membership of secret cult is something difficult.
Therefore, they go to a computer center and they are billed heavily for it because of ignorance.
Today, I will put you through on how to write a UNIQUE affidavit of non membership of secret cult for any schools clearance purpose in Nigeria.
Furthermore, it will save you some few bucks as it will not be more than N20 to do this.
Write A UNIQUE Affidavit Of Non Membership Of Secret Cult
After you and I have gone through this together successfully, you will be able to write a UNIQUE affidavit of non membership of secret cult
All you need to do is:
Type it with your laptop or smart phone
Use USB cord to collect the document into your phone, flash or take your phone to
The business center and print it out for at most N20.
Then you have to take it to a high court to sign.
However, considering the transportation fee and stress, I have a solution on that.
You can also check the law faculty in your school if they can sign for you.
For Example in my school [University Of Benin], you can sign your documents at the faculty of law.
This signatory is equal to the one signed in the high court.
Sounds cool right?.
When I was a fresher, I did mine for close to N1200.
You don't want to be in my shoes.
The Affidavit Format
IN THE HIGH COURT OF JUSTICE
EDO STATE OF NIGERIA
IN THE BENIN JUDICIAL DIVISION
                                                    AFFIDAVIT OF NON MEMBERSHIP OF SECRET CULT
I, [your full name] (sex) a (religion) and a citizen of the federal Republic of (your country), residing at (your home address)(city)(State). do hereby make an oath and state as follows:-
That I am an undergraduate student of the (your School), (city)(State) in the department of (department), (faculty).
That my matriculation number is (MATRIC NUMBER).
I am aware of the Cult Renunciation committee recently inaugurated in the pro chancellor and chairman of the governing council of (Your School).
That I have never been a member of any secret cult within or outside the University.
That I am not a member or sponsor of any secret cult.
I will never aid or abet the activities of any secret cult.
That from the rules and regulations of he university, I am aware that membership of any secret cult is incompatible with my status as student of  (your school), (City), (State).
That the (your school) is at liberty to invoke necessary disciplinary sanctions against me for acts unbecoming with my status as student of the university.
I make this affidavit solemnly and conscientiously believing same to be true and correct and in accordance with the Bendel State statutory Declaration law of 1976 and also applicable to Edo State Nigeria.
—————————————
The you sign and take it to court either in your school or high court.
You can see a illustration of this below.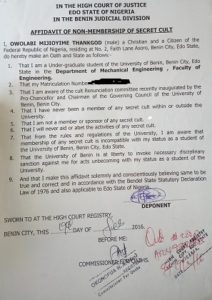 That's the much I can take on the topic How To Write A UNIQUE Affidavit Of Non Membership Of Secret Cult.
Thanks For Reading
If you don't share it means you don't care.
Like our page on Facebook by either searching for o3schools or clicking the link.
O3schools Team.
Finally, See other Articles That Might Interest You.