A lot of students never know the luck they have when there are no found errors in their WAEC result.
This is usually so because they just get their result, submit and get cleared easily during admission processing.
Although, the story cannot be same for someone else who has errors in his date of Birth (DOB) and name.
In fact, it can entirely be frustrating.
That's the purpose for studying the topic "Correction of Name and DOB In WAEC Result".
Today, I will use my experience or story on this matter to make it very clear to anyone who finds him/herself in the same situation tomorrow.
Correction Of DOB And Name In WAEC Result – My Story
I got admitted into the university of Benin in the 2014/2015 session and my clearance wasn't easy.
This was because of the errors in not only my date of birth, but also my middle name.
My date of birth was written as October 21st instead of October 22nd, while my middle name was spelt as Mijoyime instead of Mijioyime.
My clearance officer of course rejected the result as the details on the WAEC result wasn't consistent with that on the JAMB and School.
Then of course, he gave me a correction form to fill.
In the form, I stated that errors on my WAEC result and then gave the correct details.
In about a week's time, I received a letter from my clearance officer that I have been given 6 months to effect the changes or else…………………
The copy of the letter is below
Sorry i had to clean my year of birth (lol).
What else could that be?
Losing my hard earned admission? Definitely yes, if i don't rectify it before the stipulated time.
Correction Of Name And DOB In WAEC Result – The Journey To WAEC Office
I immediately of course went to the WAEC office in Benin City because my WAEC exam was written in Edo state.
When I got there, the journey began.
I was told to go back to my school to collect some documents.
The school here was the secondary school I wrote my WAEC exam.
Most importantly, I was to collect two letters from the school; See them below;
Attestation Letter
Correction letter
Attestation Letter
In the attestation letter, the school was to confirm that I truly finished from the school.
This was not a problem
Correction Letter
The correction letter was to state the errors found in the WAEC result.
Although in this case, I was to admit that I made those errors and not them.
This means that if you don't admit you made those errors, you will not be attended to.
So of course, I had to.
See the letter below.
Although, in my case, I combined my attestation letter and correction letter together.
Although they complained but after much pleading, they accepted.
The other documents which were requested are below;
This birth certificate has to be the original one.
They don't accept affidavit for declaration of age.
Therefore, I had to go to a teaching hospital to make one.
Then I requested for it to be backdated .
What I mean there is that I told them to take the date it was done backward up to 1990's.
It cost me close to another. N5000, but it was worth it.
Then I had to rumple and stain it to make it look like an old one.
You can see that in the picture below.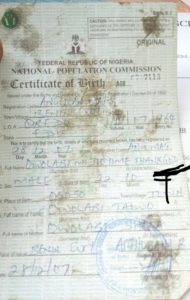 By the time we are done with this topic "correction of name and DOB in WAEC result", you will fully understand why I am breaking it so you can comprehend.
The WAEC result requested here is the one the error was made.
It is assumed that since you need a corrected one, then the one with error has to be retrieved.
But of course, I can't show you that because it has already been collected.
Affidavit For Correction Of Name And DOB
You will have to swear a new affidavit for the correction of name or DOB.
Please note here that I had Errors in both my name and Date Of Birth.
Your case may just be DOB or may be name.
When I mean new affidavit, I mean a fresh affidavit only for this purpose.
See the format of swearing an affidavit for correction of name and DOB in WAEC result below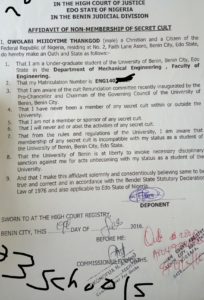 The school register talked about here is the register showing your name as a proof that you actually/really attended the school.
As you can see, mine is number 23 on the register.
If you are correcting just your name or just your date of birth (DOB), you will be required to pay just N10,000.
But if you are doing correction of name and DOB in WAEC result, you will pay N15,000.
Cool right? (LOL).
Lastly, you will be issued a receipt like the one below;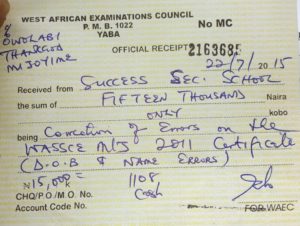 The Wait For The Correction Of Name And DOB In WAEC Result
After passing through all this stressful process, you are then required to wait for at least 6 months.
Mine came in the 9th month.
When I finally collected it, I discovered the DOB was effected correctly.
Although, the middle name was now abbreviated as you can see below.
That was where another story began before I found another way of doing it fast.
That's the much I can take because your case is different.
But there is of course another way of going about correction in name and DOB in WAEC result without going through this stress.
Although it will cost you much more, but it's worth it.
The Easy/Fastest Way Of Correction Of Name And DOB In WAEC Result
The good thing about this other way is that you will get your result in less than two weeks.
Nevertheless, you will have to pay more.
My friend this it and got his own ready in less than a week.
Be rest assured that you will get your own done with just N30,000 for name or DOB and then N35,000 of both errors.
If you are in Benin City, it works better but anybody can do it  from anywhere they are as the correction will end up being done in one place.
Benefits Of Doing Your Correction Of Name And DOB In WAEC Result Now
You will avoid a lot of stress correcting yours today.
Firstly, you will get cleared without stress if you are a first year student.
Secondly, you will avoid a lot of stress during your final year clearance in case you have used awaiting result to gain entrance.
Thirdly, you will avoid being thrown out of school for incorrect details.
For easy access, I will drop my friends number and the person to contact for the correction.
The first is to verify while the latter is to get it done.
That's the much I can take on "Correction of name and DOB in WAEC Result".
If you have any questions, don't forget to use the comment box.
Thank For reading.