Write A UNIQUE Guarantors Letter

If you are reading this, it, therefore, means that you have been admitted into the school.
Moreover, even though you have not been admitted yet, you are quite confident that you will gain entrance into your desired institution by God's Grace soonest.
I hope to see a couple of AMEN in the comment box.
Nevertheless, some new students always think that writing a unique acceptance letter is something difficult.
Therefore, they go to a computer center and they are billed heavily for it because of ignorance.
Today, I will put you through how to write a UNIQUE acceptance letter for any school clearance purpose in Nigeria.
Furthermore, it will save you some few bucks as it will not be more than N20 to do this.
How To Write A UNIQUE Guarantors Letter For Clearance
After you and I have gone through this together successfully, you will be able to write a UNIQUE Guarantors letter.
All you need to do is:
Type it with your laptop or smartphone
Use USB cord to collect the document into your phone, flash or take your phone to
The business center and print it out for at most N20.
Take it to a high court for it to be signed for N200.
The only high court in Benin city is at Sapele road.
However, instead of also wasting transport, you can also do it at your school if it offers the service.
For example, in the University Of Benin, the law faculty can sign documents for you equivalent to the one done at high courts.
Sounds cool right?.
When I was a fresher, I did mine for close to N1200 altogether.
You can learn how to now and avoid been cheated.
Therefore, lets get to it.
To begin, just write two addresses. One for you and the other to the schools registrar.
Then of course, you begin with your normal formality of Dear sir/madam.
In case of UNIBEN, its madam.
Then your heading.
The Body Of The Letter
                                          GUARANTORS LETTER
I hereby confirm that the bearer [Your Name] is well known to me, I being the father/mother of the above-named person, I promise that he will be of good behavior throughout the duration of his course in the University.
I also promise to answer for or identify with the University for any default or otherwise financially that may arise from him during the duration of his studies at the university.
I hope this undertaking shall be accepted by the School Authority.
Yours Faithfully,
Your Father/mother's name.
See a sample below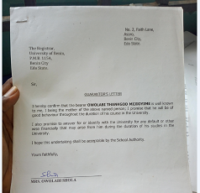 That's all I can take on how to write a unique guarantor's letter.
If you have any questions, don't forget to drop it in the comment box.
Finally, remember that SHARING is CARING.
O3schools Team