Today, you and I will quickly take a look at the topic "Federal Poly Bauchi Pre-ND, Diploma, ND Certificate, IJMB & HND Admission List 2020/2021 Out".
Nevertheless, this has become very important because of Federal Poly Bauchi aspirants that took the 2020/2021 admission form.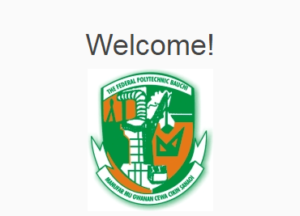 However, if you are among those that has been searching for [federal polytechnic bauchi admission list 2020/2021, federal polytechnic bauchi result, federal poly bauchi online registration, federal polytechnic bauchi courses, federal polytechnic bauchi post utme 2020, federal polytechnic bauchi resumption date, federal polytechnic bauchi admission status, fed poly bauchi new webportal, Federal Poly Bauchi Pre-ND, Diploma, ND Certificate, IJMB & HND Admission List 2020/2021 Out], then you are certainly not alone.
Nonetheless, the good thing is that you are here and you shall get all the information you have been searching for right here on this blog.
Therefore, the next question that will come into any Federal Poly Bauchi admission seekers mind is "How Do I check My Admission Status?".
Well, the answer to that question is not far-fetched as you can see all of that information below.
Federal Poly Bauchi Pre-ND, Diploma, ND Certificate, IJMB & HND Admission List 2020/2021 Out
The management of the Federal Polytechnic Bauchi (FPTB) has released the list of candidates offered provisional admission into its PreND, Diploma, Certificate, IJMB, ND and HND programmes for the 2020/2021 academic session.
How to Check Federal Polytechnic Bauchi Admission Lists.
1) Go to  the Federal Polytechnic Bauchi admission status checking portal at https://portal.fptb.edu.ng/admissions/checkList
2) Select admission session
3) Enter Applicant Name/Application Number in the space provided,
5) Select Level of Study (i.e ND, HND, Pre-ND, Certificate, Diploma, etc)
6) Select your admission stream (e.g batch A or B)
7) then click on the "Display List" button.
Please Note
The offer is subject to the confirmation of your suitability as a student on the basis of the qualifications listed in your application form. You will therefore be required to produce the originals of your Certificate(s)/Statement of Results.
For candidates who obtained their O level results in the year 2011 or earlier, only their original certificates will be accepted for registration.
Please note that if at any time after your registration it is discovered that you do not possess the qualification(s) on the basis of which you were offered admission, or you gave any other false information in your application form, you will be required to withdraw from the Polytechnic.
You will be required to have been declared medically fit by a qualified Medical Practitioner acceptable to the Polytechnic before you are allowed to register. The attached Medical Examination form should therefore be duly completed by such a qualified Medical Practitioner and returned by you before registration.
You will be requried to register with TSHIP in the medical centre.
You are to report for screening and registration December 3rd,
You must be decent in your mode of dressing and as such no loose, weird, seductive or provocative mode of dressing is allowed.
You must obtain clearance first from the department before making any payment as there would be no refund of fees after issuance of receipts.
Payment of Fees must be made in full in the designated banks.
This offer of admission is provisional and therefore, can be withdrawn at any time If you accept this offer under the above stipulated conditions, please proceed to the department for your clearance.
OTHER DIPLOMA PROGRAMMES (2 YEARS)
The Polytechnic also offers Diploma in the following fields:
i) Diploma in Agricultural Bio-Environmental Engineering Technology (DABET)
ii) Diploma in Agricultural Technology (DAT)
iii) Diploma in Office Technology and Management (DOTM)
iv) Diploma in Electrical/Electronic Engineering Technology (DEET)
v) Diploma in Mechanical Engineering (DME)
vi) Diploma in Mass Communication (DMC)
vii) Diploma in Computer Engineering (DCE)
viii) Diploma in Crime Management & Control (DCMC)
ix) Diploma in Public Accounts & Audit (DPAA)
x) Diploma in Public Administration (DPA)
xi) Diploma in Leisure and Tourism Management (DLTM)
xii) Diploma in Library and Information Science (DLIS)
xiii) Diploma in Computer Science (DCS)
xiv) Diploma in Banking and Finance (DBF)
xv) Diploma in Marketing (DM)
xvi) Diploma in Management Studies (DMS)
xvii) Diploma in Event Management (DEM)
IJMB
The programme which last for 12 months of one session is to prepare candidates for Admission into 200 Level of Nigerian Universities of their choice. Candidates for the programme must have five (5) relevant credits at SSCE Level i.e: WAEC, NECO or NABTEB which must include English Language and Mathematics in not more than two (2) sittings.
PRE-ND (SCIENCE)
This is a one-year preliminary course designed for candidates who do not meet the requirements for direct admission into the ND courses in the sciences. Pre-ND courses are strictly meant for candidates from catchment areas of the Polytechnic and other educationally disadvantaged states. Candidates must indicate their Departments of choice from the following:
(i) Agricultural Engineering Technology; (ii) Agricultural Technology; (iii) Civil Engineering Technology; (iv) Electrical/Electronic Engineering Technology; (v) Mechanical Engineering Technology; (vi)Food Science & Technology; (vii) Nutrition & Dietetics; (viii) Science Laboratory Technology; (ix) Estate Management; (x) Architectural Technology; (xi) Building Technology; (xii) Quantity Surveying; (xiii) Computer Science; (xiv) Tourism; (xv) Hospitality Management; (xvi) Surveying & Geo-Informatics; (xvii) Mass Communication; (xviii) Office Technology & MGT.; (xix) Statistics; (xx) Forestry; (xxi) Animal Health & Production; (xxii) Library & Information Science; (xxiii) Wild Life & Eco-Tourism; (xxiv) Mechatronics Engineering Technology; (xxv) Computer Engineering; (xxvi) Urban and Regional Planning; (xxvii) Fishery.
REMEDIAL PROGRAMME
For Secondary School Leavers who wish to re-write their SSCE in WAEC/NECO/NABTEB Examinations to acquire the entry requirements in to Nigerian Universities, Polytechnics and Colleges of Education.
The entry requirement for the programme is any candidate who has attempted WAEC or NECO examinations.
CERTIFICATE COURSES (ONE YEAR DURATION)
i) Certificate in Nutrition and Dietetics
That's the much we can take on the topic "Federal Poly Bauchi Pre-ND, Diploma, ND Certificate, IJMB & HND Admission List 2020/2021 Out".
Thanks For Reading
Federal Polytechnic Bauchi JAMB & Departmental Cut Off Marks 2020/2021
Federal Polytechnic Bauchi School Fees 2020/2021 For Freshers & Returning Students