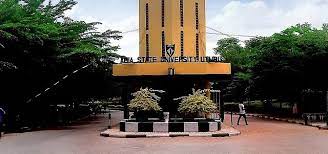 Today, you and I will quickly talk about the topic "ABSU Post UTME Form 2021/2022 Is Out Online, Absu.edu.ng | ABSU Admission News".
This has become absolutely necessary as a lot of ABSU aspirants have been asking us questions in our whatsapp and telegram group pertaining to the subject matter.
However, if you have been wondering about [absu post utme date, absu post utme past questions, absu post utme 2021/2022, absu post utme 2021/22, absu post utme 20/21, is absu post utme form out for 2021/2022, absu post utme date 2021, isabsu post utmeresult out, ABSU Post UTME Form 2021/2022 Is Out Online, Absu.edu.ng | ABSU Admission News], then you can see that you are not the only one searching.
Nonetheless, you shall get all the information you have been searching for right here on this blog.
Without wasting much of your time, we shall look at the topic under the following headings;
Now lets take them one after the other.
ABSU Post UTME Form Latest News
The management of the Abia State University (ABSU) has released the cut-off mark for the 2020/2021 academic session admission exercise.
To be eligible to write ABSU post UTME screening exercise, candidates must score up to the NATIONAL CUT-OFF OF 160 and above in the JAMB Examination.
Applications are invited from suitably qualified candidates for admission into the Abia State University, Uturu DEGREE PROGRAMMES for the 2021/2022 academic session.
ABSU Post UTME Eligibility.
a. Candidates who chose Abia State University as their 1st choice, 2nd choice and those who did not choose the University at all in the UTME, but want to change on JAMB platform.
b. Candidates who scored 160 and above in the Unified Tertiary Matriculation Examination (UTME).
c. Candidates who possess the basic five O'level credit passes in accordance with the University's Entry Requirements.
d. Candidates with Awaiting Results can also apply, but should so indicate
How to Apply for ABSU Post UTME Form.
Eligible candidates should Log on to the ABSU portal (portal.abiastateuniversity.edu.ng) and generate an invoice.
Proceed to any branch of our designated Banks listed below and pay N2,000.00 only.

ABSU Microfinance Bank;
Ecobank Plc
Zenith Bank Plc
First Bank Plc
Fidelity Bank Plc
Union Bank Plc

Get back to the ABSU portal (portal.abiastateuniversity.edu.ng) and click on Applicant.
Select ABSU Aptitude Test
Complete the Application Form, ensure you upload a clear passport photograph to avoid rejection of candidate and download a copy as an evidence of registration.
Note:
Candidates should ensure that their correct details are captured during the application for the Post-UTME screening test.
Candidates are not required to upload any photograph or biometric capture, as pictures and biometric of candidates have been supplied by JAMB.
Candidates who do not register for the Post UTME Screening Exercise will not be considered for Admission.
However, Foreign candidates, Inmates of Correctional Centers (Prisons), as well as, Blind and Deaf candidates are exempted from the Post UTME Screening Exercise.
The Registration for the Screening Exercise will commence on

Monday, 20th July

and end

Friday, 21st August, 2020

.
CLOSING DATE: The closing date for the registration of the Aptitude test has not yet been announced.
ABSU Post UTME Screening Exercise Schedule.
The Post-UTME Screening Exercise will take place from

Monday, 24th August to a date that will be communicated later

online.
Candidates are requested to please note that the Screening Exercise is as scheduled in the Screening Exercise slip they printed out after the online registration.
Candidates are required to stick to the Examination dates and time on the test slip printed out during the online registration, as consideration will not be given to those who fail to login and take the screening test on the scheduled date and time.
Candidates should note that taking the test on their GSM phones or its use as a hotspot is not advisable, as incoming calls may cause serious obstruction.
Candidates are advised to ensure that they have internet connectivity before the scheduled time of their examinations.
Further details about the Screening Exercise can be obtained online at www.abiastateuniversity.edu.ng
It is important to note that the names of successful candidates for Admission shall be published on the same site (www.abaistateuniversity.edu.ng).
We wish all candidates successful Online Screening Exercise.
SEE ABSU CUT OF MARKS FOR POST-UTME 2021/2022
However, as I have related at the beginning, ABSU Post UTME form is not yet on sale. Nevertheless, this thread has been created so that you can know immediately it comes out.
This means that all you need to do is come back to keep checking for updates.
Finally, if you are on whatsapp, you can drop your number so we add you to our whatsapp group.
How to pass ABSU Post UTME 2021/2022 | Easy Smart Method
That's the much I cant take on the topic "ABSU Post UTME Form 2021/2022 Is Out Online, Absu.edu.ng | ABSU Admission News".
Thanks For Reading