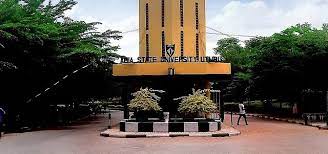 Today, you and I will quickly talk about the topic "ABSU Post UTME Form 2021/2022 Is Out Online, Absu.edu.ng | ABSU Admission News".
This has become absolutely necessary as a lot of ABSU aspirants have been asking us questions in our whatsapp and telegram group pertaining to the subject matter.
However, if you have been wondering about [absu post utme date, absu post utme past questions, absu post utme 2021/2022, absu post utme 2021/22, absu post utme 20/21, is absu post utme form out for 2021/2022, absu post utme date 2021, isabsu post utmeresult out, ABSU Post UTME Form 2021/2022 Is Out Online, Absu.edu.ng | ABSU Admission News], then you can see that you are not the only one searching.
Nonetheless, you shall get all the information you have been searching for right here on this blog.
Without wasting much of your time, we shall look at the topic under the following headings;
Now lets take them one after the other.
ABSU Post UTME Form Latest News
ABSU Post-UTME Form, cut-off mark, cost, screening dates, eligibility and registration details for the 2021/2022 Academic session have been announced. Cut-off mark is 140. Cost is N2,000. Screening has been scheduled to hold 12th Oct – 14th Oct, 2021.
This is to inform all the candidates who applied for admission into Abia State University degree programmes for the 2021/2022 academic session that the Post-UTME screening test has been scheduled as follows:
Day 1: Tuesday, 12th October, 2021 Medicine and Surgery, Medical Laboratory Science, Nursing Sciences, Anatomy, Physiology, Public Health, Optometry and Pharmacy.
Venue: Uturu Campus
Day 2: Wednesday, 13th October, 2021
a. Faculty of Law and Agriculture Venue: Umuahia Location
b. Faculty of Biological Sciences
Faculty of Physical Sciences
Faculty of Engineering
Faculty of Environmental Studies
Education/Agric, Education/Biology,
Education/Chemistry, Education/Maths Education/Physics
Venue: Uturu Campus
Day 3: Thursday, 14th October, 2021
i. Faculty of Economics and Management Sciences
ii. Faculty of Social Sciences
iii. Faculty of Humanities
iv. Edu/Accountancy, Edu/Economics, Edu/English, Edu/Fine Arts, Edu/French, Edu/Political Science, Edu/Religion, Edu/Social Studies, Edu/Government. Edu/Guidance and Counselling. Edu/Management & Planning.
Venue: Uturu Campus
The screening test will commence at 10.00am on each of the designated days. Candidates are also advised to ensure message on whatsapp and they get the ABSU Official Past questions and Answers. This will help them prepare adequately for the aptitude Test. CLICK HERE to get yours.
Candidates Qualified for the Screening Exercise
1. Candidates who chose Abia State University as their 1st Choice, 2nd Choice and those who did not choose the University at all in the UTME but want to change on the JAMB platform.
2. Candidates who scored 140 and above in the Unified Tertiary Matriculation Examination (UTME).
3. Candidates who possess the basic five O'level credit passes in accordance with the University entry requirements.
Procedure for Registration for the Screening Exercise
(a) Candidates are expected to register for the screening exercise online by logging into www.abiastateuniversity.edu.ng and making e payment of two thousand Naira (N2,000.00) only, in any of the following Banks:
• ABSU Micro-Finance Bank, Uturu
• Eco Bank Plc
Zenith Bank Plc
Fidelity Bank Plc
• Union Bank Plc
• UBA Plc
(b) Candidates who do not register for the Post-UTME screening exercise will not be considered for admission.
(c) Further details about the screening exercise can be obtained online at www.abiastateuniversity.edu.ng.
All COVID-19 protocols will be strictly observed.
Acho Elendu, Ph.D
Registrar
SEE ABSU CUT OF MARKS FOR POST-UTME 2021/2022
However, as I have related at the beginning, ABSU Post UTME form is not yet on sale. Nevertheless, this thread has been created so that you can know immediately it comes out.
This means that all you need to do is come back to keep checking for updates.
Finally, if you are on whatsapp, you can drop your number so we add you to our whatsapp group.
How to pass ABSU Post UTME 2021/2022 | Easy Smart Method
That's the much I cant take on the topic "ABSU Post UTME Form 2021/2022 Is Out Online, Absu.edu.ng | ABSU Admission News".
Thanks For Reading