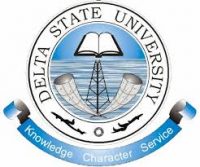 Today, you and I will quickly talk about the topic "Delsu Pre-degree Admission Form 2020/2021 Is Out| Buy Your Form Now".
This is important because I have been receiving a lot of searches from aspirants of Delsu Pre-degree.
However, if you are among those that have been searching for [when will delsu pre-degree form expire, delsu pre-degree form 2020/2021, list of pre-degree courses in delsu, delsu pre-degree portal, delsu pre-degree school fees, delsu latest bulletin, www.delsu.edu.ng online, www.delsu.edu.ng admission list, Delsu Pre-degree Admission Form 2020/2021 Is Out| Buy Your Form Now], then you are not obviously alone.
However, you shall get all the information you have been searching for right here on this blog.
Nonetheless, without wasting much of your time, lets head to the topic "Delsu Pre-degree Admission Form 2020/2021
Recommended:- Complete List Of Federal Universities In Nigeria
Also Read:- Complete List Of All State Universities In Nigeria.
About Delsu Pre-degree Admission Form 2020/2021
It is pertinent to note that applications are hereby invited from suitably qualified candidates for admission into the Pre-degree program of the Delta State University, Abraka for the 2020/2021 academic session.
However, it is important to note that the program is an intensive one designed to prepare candidates for entry into 100L of some selected degree programs at Delsu.
Admission Requirements For Delsu Pre-Degree
The following are the admission requirements any Delsu Pre-degree aspirants must meet to be admitted into the institution.
The candidate must;
possess five (5) credits in relevant subjects in SSCE or its equivalent in no more than two sittings.
However, the subjects should include English language and Mathematics.
Nevertheless, for some specific courses such as Pharmacy and Nursing Science, the aspirant must possess five (5) credits at one sitting in SSCE or its equivalents.
Possess Specific departmental admission and faculty requirements as indicated in the Unified Tertiary Matriculation Examination Brochure For Delta State University.
Register with JAMB and sit for the 2018 JAMB/UTME  and make Delsu as their first choice of institution.
must sit for the 2018 JAMB examination as well as obtaining a minimum score of at least 180 which is the agreed JAMB cut off mark.
register the same course in JAMB and In the Delsu Pre-degree program.
List Of Faculties Present For The Pre-degree Program
The following are the faculties present for the Delsu Pre-degree Program 2019/2020.
In no particular order, they include the faculty of;
Engineering
Pharmacy
Arts
Basic Medical Science
Agriculture
Social Science
Management Science
Education
List Of Courses Offered For Delsu Pre-degree Program 2020/2021
The following are the courses offered for Delsu Pre-degree program 2020/2021.
In no particular order, they include;
Mechanical Engineering
Theatre Arts
Philosophy
Religious Studies
Pharmacy
History and International Studies
English and Literary Studies
Music
Pharmacology and Therapeutics
French
Physiology
Fine and Applied Arts
Anatomy
Medical Biochemistry
Nursing
Psychology
Sociology
Soil  Science
Political Science
Forestry and Wildlife
Mass Communication
Animal Science
Economics
Fisheries
Business Administration
Crop Science
Accounting and Finance
Agricultural Extension
Geography and Regional Planning
Agricultural Economics
Marketing
Health Education
Banking and Finance
Political science Education
Business Administration
Economics Education
Accounting and Finance
Social Studies Education
Religious Studies Education
History Education
Guidance and Counselling
Mathematics Education
Environmental Science
Integrated Science
Physics and Electronics Technology
Human Kinetics Education
Business Education
Library and Information Science
Biological Technology
Computer Science
Home Economics
Geology
Music Education
Industrial Mathematics
Fine Art Education
Mathematics
French Education
Geography Education
Physics
Industrial Chemistry
Agriculture Education
It is very important to note that all aspirants and candidates alike who want to purchase the Delsu Pre-degree Admission Form 2019/2020 are expected to come with the following materials, without which they will not be allowed into the examination venue.
Therefore, the following are the materials/tools you are expected to bring to the venue. They include;
Printed Photo Card
HB Pencil
JAMB Calculator
Well, it is important to note that admission of candidates into all courses shall be based on a GAT called General Aptitude test.
The test will be conducted by Delta State University, Abraka.
It is good to note that application will be done online.
Therefore all application forms shall be filled online at the rate of Twenty thousand Naira (N20,000) via the use of Delta State University Virtual pin generated by clicking here.
Nonetheless, payments can be made to any of the following approved banks.
Unity bank

United Bank For Africa

Eco Bank

Zenith Bank
Applicants should visit Delta State University portal https://portal.delsu.edu.ng  to generate a virtual pin and proceed with the virtual pin to make payment of Twenty thousand (N20,000:00) Naira at any of the following University approved banks: Eco Bank, Fidelity Bank, UBA, Unity bank & Zenith Bank.  Upon payment, applicants should proceed to fill the application form online, submit and print out personal copy.
Procedure:
Click on Apply for Admission
Select Start button
Click on Pre-Degree and complete the form
Submit the form and generate PIN
Print out the PIN generated
Visit any of the specified banks for payment.
Closing Date: Monday, January 11, 2021.
Date of Entrance Examination: 15th January, 2021.
Items Required for Writing the Entrance Examination: Candidates are expected to come along with their Printed Photo Card, without which they would not be allowed into the examination venue.
That's the much I can take on the topic "Delsu Pre-degree Admission Form 2020/2021 Is Out| Buy Your Form Now".
Thanks For Reading
Finally, remember that SHARING is CARING.
Delta State University DELSU Change of Course Form (Supplementary Admission) 2019/2020

DELSU JUPEB Admission List 2019/2020 Released | Check All Batches Here

COEWARRI Post UTME/DE Screening Form 2020/2021 Affiliated to Delsu

Delta State University DELSU Diploma Academic Calendar 2020/2021

DELSU Academic Calendar 2020/2021| Delsu.edu.ng | DELSU Latest News Update

Updated List Of Courses Offered In Delta State University (DELSU)

DELSU Acceptance Fees 2020/2021 | DELSU Acceptance Fees Portal 2019 & Guidelines

DELSU Postgraduate School Fees 2020/2021 | DELSU PG Fees Breakdown 2020

DELSU JUPEB Entrance Exam Result 2020/2021 | Check DELSU JUPEB Result Here

DELSU Freshmen Matriculation Ceremony Date & Academic Gown Collection Details 2020/2021

DELSU Direct Entry Admission List 2020/2021 Released | Check DELSU DE List Here

DELSU Pre-Degree Admission List 2020/2021 Released | Check All Batches Here

DELSU Post UTME Form 2020/2021 Is Out Online, Delsu.edu.ng | DELSU Admission news

Delta State University DELSU Postgraduate Academic Calendar 2020/2021

Delta State University DELSU Short-Term Certified Entrepreneurship Programme Admission Form 2020/2021

DELSU Post UTME Past Questions, Answers & Pdf's | 2020 DELSU Post UTME Exam Focus

DELSU JUPEB Academic Calendar 2020/2021 Released | Delsu JUPEB Portal Latest News

How to Print DELSU Post UTME Screening Schedule 2020/2021 | Print Now